Amir Adnan have launched his latest work on the ramps of Bridal Couture Week this collection include wedding wear and festive occasion ceremony dresses for the summer season.
We all wait for the bridal couture week because its one of the most exciting fashion show in the country it includes bridal and groom dresses in traditional designs.Most of the dresses are in luxury forms because its the special event so only special dresses are launched on the ramp.
Just like all top evening wear designers in the country Amir Adnan also have launched his elegant collection which includes traditional bridal dresses,groom sherwani's in modern forms some Eid dresses and some ceremony dresses for both men women that you can wear on special occasions.
You can categorized this collection as evening wear,wedding wear and ceremony festive wear designer have shown all his hard work in it.After you see glimpse of the dresses launched you don't have to go anywhere else because Amir Adnan have covered all the summer events in this marvelous elegant work.
Amir Adnan Women Wedding & Ceremony Wear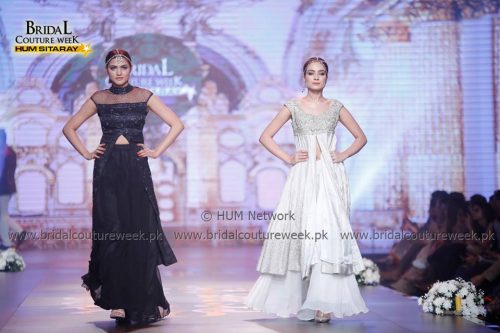 Women dresses are with heavy embroidered materials that are must have for the wedding ceremonies does not matter of the season.Fabrics are light weight but the amount of work that is done on the dresses are almost making it heavy to carry.
But you can afford some weight its not much you just have to look the designs because its one of the most luxurious traditional collection launched at the event.Dresses are mostly in long maxi type forms some are lehengas but otherwise considerably the fusion between modern and traditional designs.
Jeweled work is also embellished on different areas of the dress specially the neckline which is heavily covered with jeweled,sequins and beads gold embroidery is always seen in his collections and in this one silver work is also involved with light purple dresses.
Men Ceremony & Wedding Wear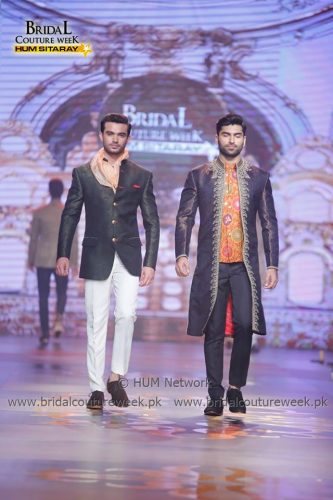 When it comes to men special occasion dresses in traditional category sherwani's are always the best choice and there are many famous designers around who are specifically working only on the sherwani dresses.
Length of the sherwani type coats are both short and long you can wear them with jeans to have more classy luxury look or wear them with dress pants totally up to you.Designer have shown them with various types of pants so you can have idea about them.
Overall this collection have everything men women needs to wear on special occasion whether its a wedding or Eid or some special party all dresses are suitable for you.So enjoy all the images of this collection and see new designs by Amir Adnan.
See More:-Akhtar Jaan Bridal Couture Summer Collection