Asifa Nabeel Summer Lavender Bridal Collection are luxury high quality heavy embroidered bridal wear that were launched at the Telenor Bridal Couture Week.
Asifa and Nabeel is one the top when it comes to Bridal Couture collections they have launched numerous of heavy embroidered bridal wear that are classy stylish and elegant.Recently held Telenor Bridal Couture Week was special because it had the summer wedding wear.
Not much brands focus on summer weddings wears because winter is the perfect time to get marry in Pakistan but still designers have launched their beautiful summer wedding wear that are in light weight fabrics.But the main focus will be on embroidery because all Pakistani wedding wear have the classic embroidery work.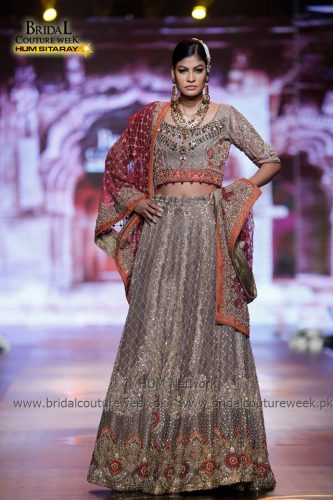 Asida and Nabeel label is launching traditional bridal wear from 13 years now so they are well experienced now launching trendy bridal wears for every season.That have classic wedding dresses and great embellishments work that you will love to have on you.
Dress designs in this collection are so versatile every type of traditional wedding dress is included from lehenga,sharara to other floor length dress forms.Each dress is crafted carefully with great intent to provide the style every bride is looking to have.
Use of vibrant colors with different thread work this is combined with sequins,bead and other luxury items that you can see on every part of the dress.Different patchy work is also included in lower part of the dress some have it on the upper part.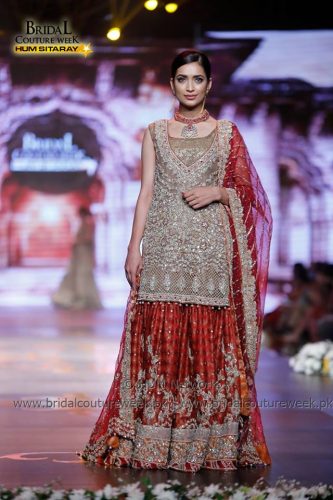 Overall designs and work done on the dress will give you silver look that is making the dress more glamorous in traditional way.Telenor Bridal Couture Week will always have these types of varieties that is not found on any other ramp these are the wedding trend setters.
On the previous Telenor Bridal Week the duo launched Asifa Nabeel Bridal Event Dresses that may have these types of bridal dresses but this Asifa Nabeel Summer Lavender Bridal Collection is bit different specially when it comes to fabrics very light weight materials are used so you can carry your dress easily.