Sonya Battla Wedding Ceremony Wear were launched at the Bridal Fashion Week both Groom and Bridal dresses are included for ceremonies and parties in modern and traditional way.
Wedding ceremony wear is basically the wedding party wear or wedding event dresses that Groom and Bride can wear all dresses are in traditional modern designs.Bridal Couture Week this season was special because it had the heavy embroidered dresses on the light fabrics.
Sonya Battla is a well known fashion label in the fashion industry most famous for her evening wear collections that are trendy and fusion of modern and traditional designs and art work.Different types of embellishments can be seen on every part of the dresses specially in bridal dresses.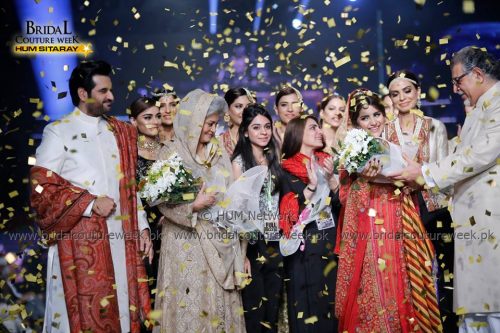 Net fabrics are also used in patches with the jeweled embroidery work great embellishments can be seen on different areas some are heavily done on the front side and some are on the back.Sonya Battla have been showing these master pieces from 15 years and getting more success each year.
She started her journey from UK by designing different types of clothes for the Pakistani community and now famous all over the world for her rich embroidery and dress designs.Some handcrafted work is also done in patches block printing is another form of prints that is seen on bridal dresses of this collection.
Men sherwani's of this collection are simple sleek and elegant giving you the perfect look of  a groom you are looking to have.Sherwani's are shown with pajamas but you can opt for jeans or pants to have more classy stylish look.
Main focus of this collection is on women wedding wear most of the dresses are in floor length designs some are maxi's and some are frock types the upper area of the dress have different designs on each dress like open jacket shirts and net jackets of golden dark embroidery.
Take a look at all the dresses of Sonya Battla Wedding Ceremony Wear and enjoy this summer season with these beautiful wedding and ceremony wear that are for both men and women.
See More:-Akhtar Jaan Bridal Couture Summer Collection