Waseem Noor Summer Bridal Pret Collection is basically the formal collection for the brides it's not a bridal event wearing dresses so let's check what type of designs are offered by the designer.
Waseem Noor is one of the fastest growing bridal dress designer brands in Pakistan just started some years ago and now have become the face of bridal couture weeks.His work is based on vintage and modern patterns like you will see in this collection's designs are bit vintage type giving you the true traditional feeling of Pakistani bridal fashion.
Although it's a bridal formal collection but single girls can also wear them on special occasions of summer season like Ramadan Aftaar parties or Eid events.
Waseem Noor Summer Bridal Pret Collection
Waseem Noor started in 2011 keeping bridal designs in mind his aim was to produce something that gives traditional feeling but in design looks modern.Jeweled embroidery is also included in this collection because it is a part of almost every bridal collection you must have seen on yourfirstwedding.com.
Every bridal collection whether western or eastern have some common elements like shimmers, stonework and jeweled work.But on Pakistani dresses, ou will find more variety and work of embroidery mostly done by hand and have lots of designs to choose.
This is a ready to wear collection all dresses are available at is as you are seeing in the image gallery have both type of dresses that can be worn on formal and semi-formal events.Dress types include lehenga and vintage style grara combined with embroidery work of today and light pastel colors that are worn during the summer time.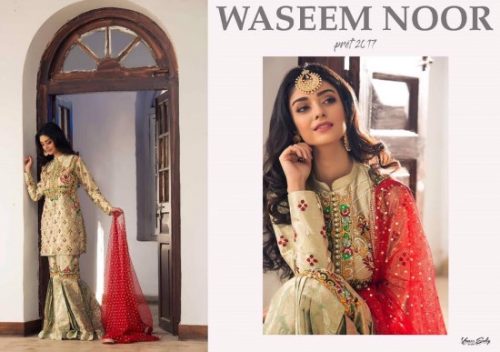 Dresses are available in light fabrics so woman can wear these during the extremely hot days the designer knows that this time Eid ul Fitr and Eid ul Azha is in extremely hot days that's why for new brides he have designed a beautiful comfortable collection in the form of Waseem Noor Summer Bridal Pret Collection which you can view in the following image gallery.
See More:-Kamiar Rokni Summer Eternal Bridal Collection