Ammar Shahid Traditional Bridal Collection is inspired by vintage Rajistani and tribal designs this collection is for the heating season so let's check out some of the designs launched under this collection.
Ammar Shahid label was founded in 2010 the designer himself is the graduate of PIFD(Pakistan Institute of Fashion Design) in short period of time he has got success in his bridal wear and men's wear.
Most of his work is acknowledged on Haute Couture events and bridal couture weeks his philosophy of designs is inspired by vintage art and heritage designs.Besides other wedding designers launching dresses for the winter season Ammar Shahid has other ideas he has launched a summer bridal collection.
Ammar Shahid Traditional Bridal Collection
This collection is all about heritage jeweled work and designs it has dresses for wedding day and evening wear events for the brides.Which brides can wear on later events that will be happening after the wedding ceremony it can be a family get to gather or festive event occasion.
Although not many people decide to get marry during the summer season but there are some that are having this event of their lives.Then this collection will take your attention it may not have the barat event dress but have all the dresses you need to wear as a new bride on different events that are coming up in a month or two.
Dress types included are lehengas which are always the first choice as the wedding dress and some floor length traditional gowns that are in the form of lehenga but are different in designs.Color schemes are pastels and reddish in designs and embroidered work.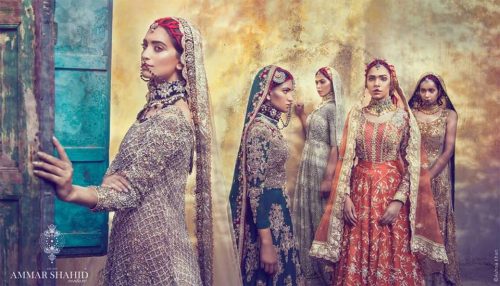 Jewelry style shown in the images are bit old and vintage in style if you don't like the style you can have your modern designs these images are shown for just example that how women can wear these dresses with different accessories.
Ammar Shahid Traditional Bridal Collection can be seen in the following gallery if you want to shop online then you can visit Ammar Shahid Facebook Page and order by contacting the brand.
See More:-Kamiar Rokni Summer Eternal Bridal Collection