Sanam Chaudhri Summer Bridal Collection are in traditional and classic designs of Pakistani wedding wear light and dark combination of colors with heavy zardozi and embroidery.
Not much of bridal collections will launched for summer season because winter is the time for weddings in Pakistan but some designers are still launching wedding wear for summer season.Pakistani weddings trend is different from other countries in English speaking nations.
People like to have weddings around the spring/summer time because they want to enjoy in summer on different wedding destinations.Their wedding gown is also designed in a way that it looks more suitable for summer weddings but when you look at Pakistani bridal dresses.
Even if its a summer collection it still be looking like the winter dresses because of the heavy work that is applied on the dresses mostly zardozi and embroidery that is done heavily on different parts of the dress.Designers use soft fabrics for the summer season still they have to do embroidery.
Which will make dresses little heavier because that's the nature of the wedding wear in Pakistan women loves to wear heavy dresses different stone and fancy work on it.Sanam Chaudhri have presented classic wedding wear with some modern day designs combined with vintage looks.
These dresses are not for just baraat day some are for reception walima ceremony and some can be worn after the wedding parties when you still be a new bride and don't want to loose the charm as a new bride.Dress forms are the traditional one's like lehenga,gharara other floor length dresses,some with jacket style and kurtis.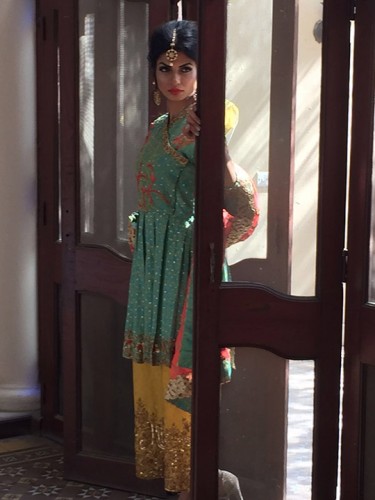 Different patterns of golden thread can be seen all over the dresses some gemstone work are also done on bridal day dress which is the baraat dress.This collection will be launching in some days we are sharing just few pictures complete collection will be uploaded when this collection will officially launch.
Prices and order details are on Sanam Chaudhri website you can pre order also check the designs of Sanam Chaudhri Summer Bridal Collection from the following gallery and find the summer wedding dress you want to wear to look more elegant and classic.
Check more summer dresses in the form of Amna Ajmal Summer Bridal Couture Collection