Amna Ajmal Summer Bridal Couture Collection have the groom dresses too a complete wedding dress collection for both men and women check the designs.
This is bridal collection but this one have groom dresses too which are sherwani's designed by Amna Ajmal which were shown at the fashion week.Amna Ajmal is in the Pakistan fashion industry from many years her collections are based on bridal wear and bridal party wear dresses.
That's what you will see in this Amna Ajmal Summer Bridal Couture Collection this have bridal wear and bridal party wear dresses.Most of the dresses are with heavy embroidery work which you must have seen before in bridal collections.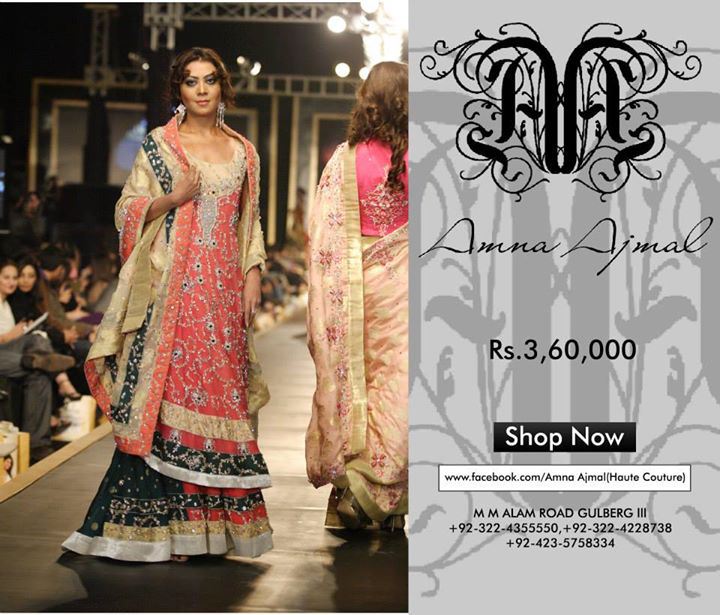 These kinds of dresses are worn on weddings of all seasons.Winter is the wedding season in Pakistan but you can wear these dresses in summer too these have heavy embroidered work but are easy to carry.Sherwani designs are very elegant and stylish grooms will love any of the sherwani's shown.
You can buy these dresses in complete package for groom's and brides otherwise buy a single dress either for groom or bride.All the details are mentioned on the images which you will see presented in the gallery at the end.
Silver thread and gemstones work are beautifully crafted on the bridal dresses that what brides always want in Pakistan.Pink,red,silver are the main colors used others are the combination of these for men wedding dresses black is always the main color.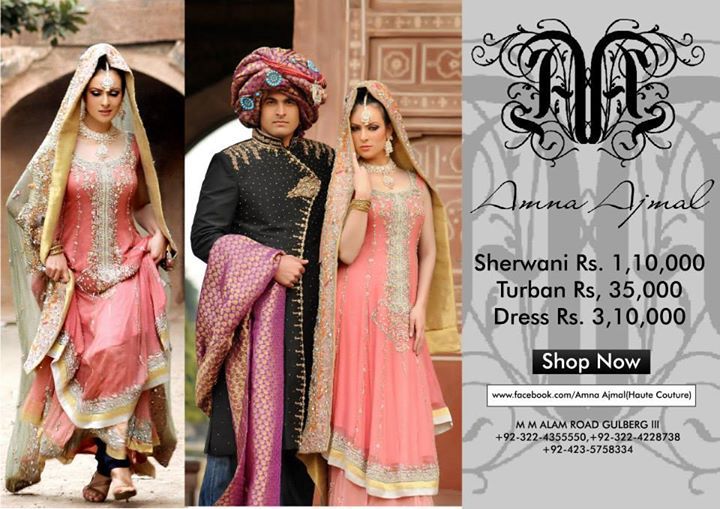 This collection have floor length dresses lehenga type dresses gharara and long shirts dresses.Lehenga and gharara can be worn on any wedding event if you are bride otherwise other dress forms are for bridal party wear.
Single girls can also wear these dresses on the wedding of their sisters and friends all designs are traditional and elegant which will be liked by women.Lets check bride and groom dresses in Amna Ajmal Summer Bridal Couture Collection gallery.
See More:-Bride Groom Traditional Wear By MNR Studios
Amna Ajmal Summer Bridal Couture Collection