Annus Abrar Traditional Bridal Collection are the classic Pakistani bridal wear that can be worn in any season this collection have bridal party wear dresses also check all the designs.
Anus Abrar is famous for his formal and fancy dress collection recently he have launched some fancy collections which you can look at this Facebook page we will be only discussing about his bridal collection.Summer is not the season to have weddings in Pakistan but this season both Eid's are in summer.
There is a trend to have weddings after Eid that's why designers are launching summer bridal collections still dresses will be heavier and little warmer.Because bridal dresses are worked with heavy embroidered it will become heavy and warmer.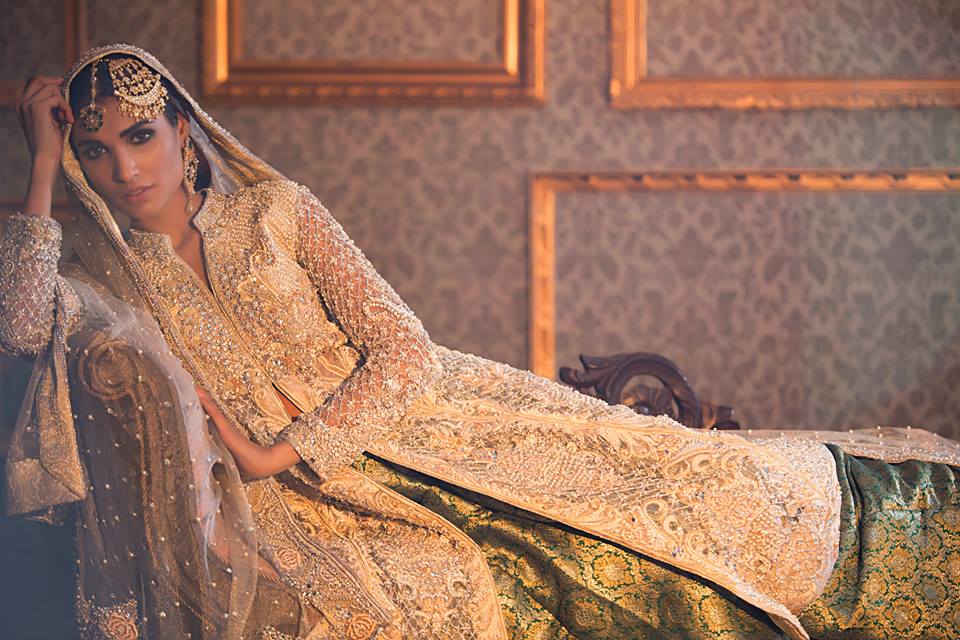 Pakistani bridal dresses are mostly in heavier forms thread and gemstone work is done with different types of jeweled items.Anus Abrar have presented classic Pakistani bridal wear which includes lehenga,A line shirts,jacket type shirts some are for wedding events and some after wedding parties.
Anus Abrar have combined traditional layouts of bridal dresses with modern dress forms every dress have golden color touch with other combination of colors.There is not much choice available in this collection only limited designs are available.
So you can pick all of them for your events designer is more focused towards his formal clothing line still he launched classical bridal collection which will be liked by every women because of the nature of the dresses.We are sharing all the dress images so you can see what dress types are available in the market for summer weddings.
This collection have more party wear dresses for the bride then the wedding event dress because as a new bride you still wanna wear some fancy traditional clothing that are equally elegant as your wedding dress.Which you will get in Annus Abrar Traditional Bridal Collection you can shop online or contact the brand on their Facebook page.
See Luxury pret bridal formal wear if you want to wear some different types of modern dresses by remaining in traditional avatar.