Annus Abrar Shehnaai Bridal Collection is based on vintage traditional designs and patterns with jeweled embroidery to make every bride feel special.
Annus Abrar is a young and talented bridal dress designer in Pakistan recently he has launched few collections in different styles Anus Abrar Bridal Formal Summer Collection was one of them.In recent time he is one of the leading bridal dress designers who is getting fame because of his vintage inspired dresses.
His latest collection is known as Shehnaai (which is a musical instrument played on the wedding events of Indian and Pakistani weddings).
Annus Abrar Shehnaai Bridal Collection
Wedding season is going to start soon and brands have started launching their latest collection the first one to launch a bridal collection for this season is Annus Abrar with his latest collection Shehnaai having bridal dresses inspired from the vintage era of Pakistani and South Asian fashion.
All dresses of Annus Abrar Shehnaai Bridal Collection are in traditional designs there isn't any formal design included which is what Annus Abrar is doing differently from all other designers.Because other brands are now mostly launching modern designs and fusion of traditional and modern western dresses.
But Annus Abrar is different he will take you on a style journey back to Mughal Era of style.Dress designs included are lehenga, gharara, short kurtis with straight pants, short kurtis with trousers.
Dresses are for bridal formal events and reception ceremonies and some dresses which include short kurtis can be worn by the bride on later events which will happen after the wedding ceremony or she can wear it on the upcoming Eid Ul Azha.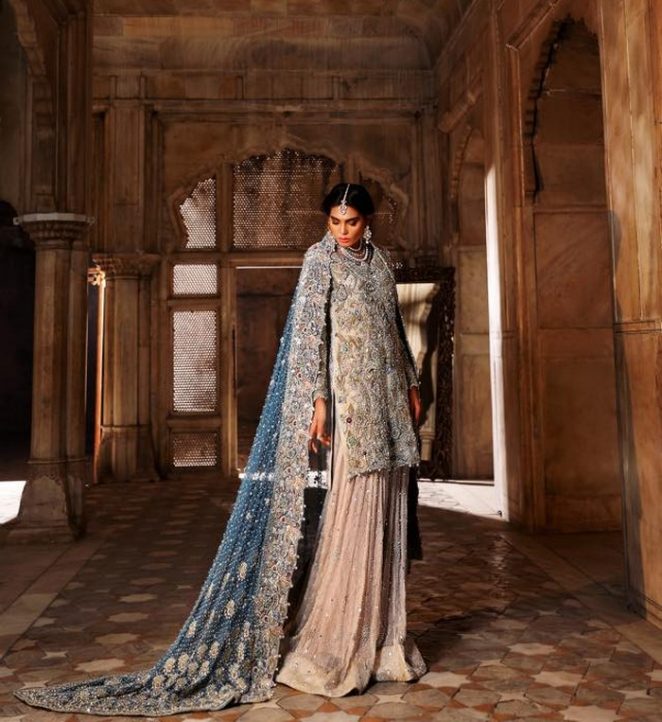 If your wedding ceremony lies between these months from August to March then you can easily wear any dress of Annus Abrar Shehnaai Bridal Collection.
Colors and jeweled embroidered work on Annus Abrar Shehnaai Bridal Collection is done by hand that's why each dress shows the perfection.Designer team of Annus Abrar is now well-experienced designing dresses for some years now they know what Pakistani brand needs and what should she wear.