Indian Bridal Hairstyles are not only for the Indian woman other nation brides can also wear them on wedding occasions or on reception ceremonies.
Bridal hairstyles are now common all over the world but there are some specific styles which are related to a specific area like India which is rich in tradition.Hairstylist has used traditional hairstyles into modern ones and converted the old hairstyles into stylish new forms which are loved by Indian woman living all over the world.
We have selected 20 of the best Indian Bridal Hairstyles which are in trend nowadays and are for all seasons but usually colder season is the wedding season in India.As we are in the mid of summer season autumn will be starting in a month these hairstyle ideas will help you to look great on your special day.
Top 20 Indian Bridal Hairstyles
These 20 Indian hairstyles are not just only for Indian woman if you belong to South Asia no matter from Pakistan, Srilanka or Bangladesh you can try these ideas because trends are similar in South Asian countries because of the common background.
1.Open Curly Hairs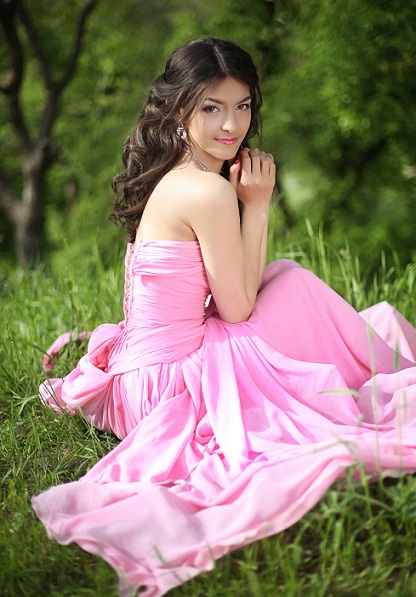 This hairstyle is easy to do with the help of combs and bit of medium hold spray which will be needed to hold hairs in some areas of your head.It can be a nice hairstyle for the wedding parties or any other social gathering bride has to attend after her wedding ceremony.
2.Long Back Braided Indian Bridal Hairstyle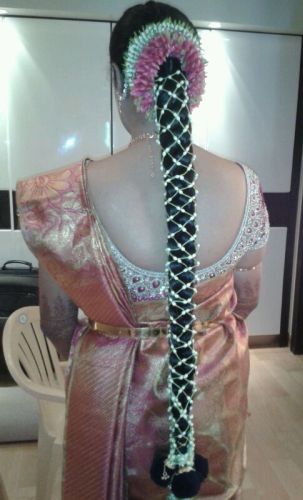 Braided hairstyle is common among the brides it has been used in Indian tradition from many years.These braided hairstyles may look different to you because of the close braids done until the end of your hairs.Accessories are optional but to add more charm you should wear accessories along with your hairs.
3.Curly Messy Braided Indian Hairstyle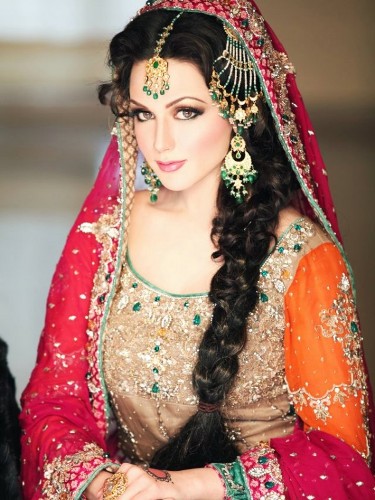 Messy hairstyle you have seen on western brides may look different then this Indian version because braids are different these are loosely connected with each other in messy form.This hairstyle needs longer length hairs if you have medium are shorter hairs you can use fake hairs or fake hair pins which will help you to increase your hair length.Front of hairs is left in two portions for the Mang Tikka traditional jewelry which suits this type of hairstyle.This hairstyle is not just for Indian brides we have seen it on Pakistani weddings too so it's for both the countries as we mentioned earlier traditions are almost same in these South Asian countries.
See More: –Curly Hairstyles
4.Curly Hairstyle for Medium Length Hairs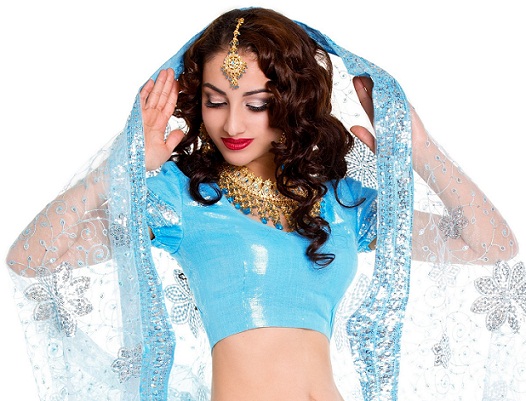 Not every girl has the luxury of long hairs most of them have medium length hairs and are often worried about which hairstyle to try because most of the ideas given for brides are for the long hairs.But you don't have to worry because medium length hairs can also be stylized into different forms one of the common ones is shown in the above image.This hairstyle will look gorgeous with sarees or lehenga dresses which you are going to wear at a wedding or on any other occasion of your choice.If you are observing each style then you must have seen Mang Tikka on every hairstyle because it is necessary brides like wearing them even single girls wear it on special occasions.
5.Curled Half up Half down Hairstyle
Half up and Half down hairstyles are in trend nowadays above shown hairstyle is simple and easy to do you can do it in just minutes.Whether you have natural curls or going to make them this hairstyle is always best to try on the special occasions of all seasons.Use some hair accessories to add more beauty to this curly hairstyle which will suit you more as a bride.
6.Floral Chignon Hairstyle for Medium Hair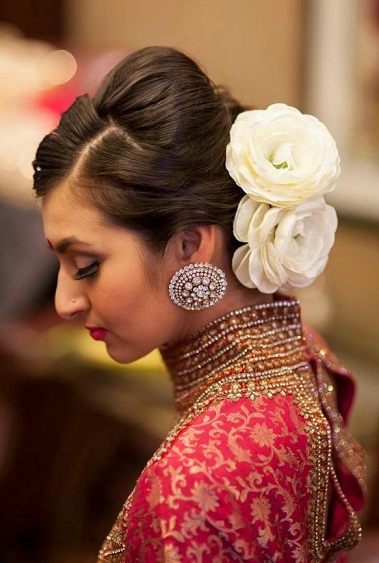 Beehive look is inspired from the vintage era and the above-shown image is one of the classic vintage hairstyles that are in trend nowadays.By adding floral accessories to the hairs you will make it more visible and elegant you can tuck flowers anywhere you like from back to sides.The size of the flower will depend on your choice how much bigger or smaller flower you want.
7.Wispy Banged Back Beehive Hairstyle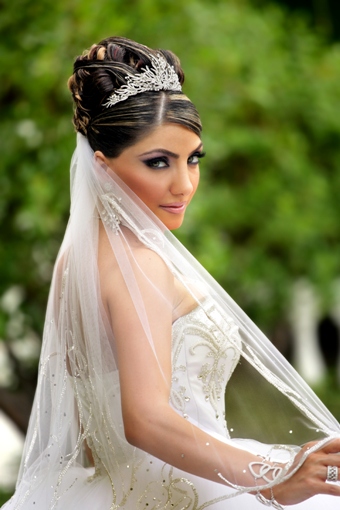 This hairstyle looks similar to bun but it's different because it is done in a way so you can adjust your crown into it if you are going to wear a crown jewelry then it's best to wear for your special day.It looks difficult but since most women have wedding hairstylist they can do the work for you.
8.Braided Chignon with Vintage Curls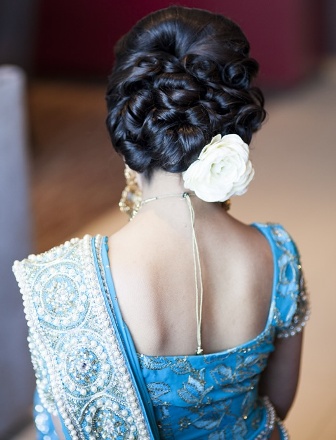 This is a clean and decent vintage bun that brides or woman who are attending the wedding ceremony can wear it on saree or on any other form of traditional formal dresses.Adding flowers to hairs is a traditional trend in India which is now seen in modern form.Small back bun curls will make your style statement count on the event you will wear this hairstyle.
9.South Indian Hairstyle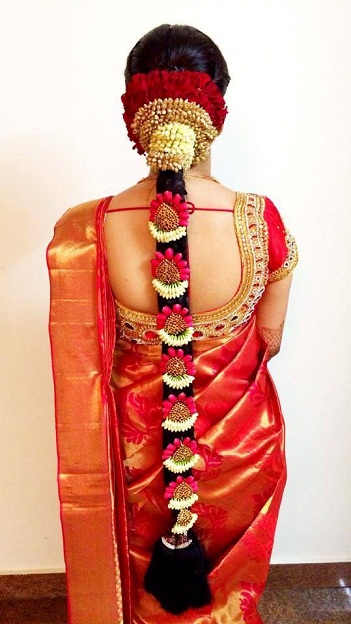 This is the most common South Indian wedding hairstyle it can be worn by bride or guests at the wedding or reception ceremony.South Indian wedding is incomplete without flowers that's why flowers are beautifully decorated in the hairs.You need to make a long braid and add flowers in between them when you are making the braids you can add flowers later but adding them at the time of making is the best idea.
10.Crown Puffed Hairstyle with Veil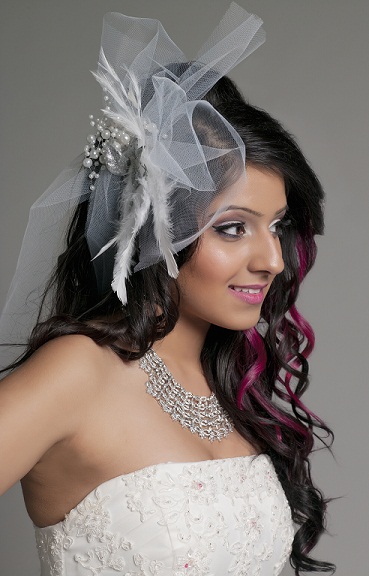 If you want something modern then this one is for you, it will need bridal gown to complete the style because on traditional dresses this hairstyle may not have much effect but on modern dresses, it will make it more hot and special.This hairstyle is not difficult you just need to make some curls and add flower and veil to your hairs to make it more special.You can even use some jeweled accessories on your hairs which will complete your hair look for your special day.
11.Side Clipped Hairstyle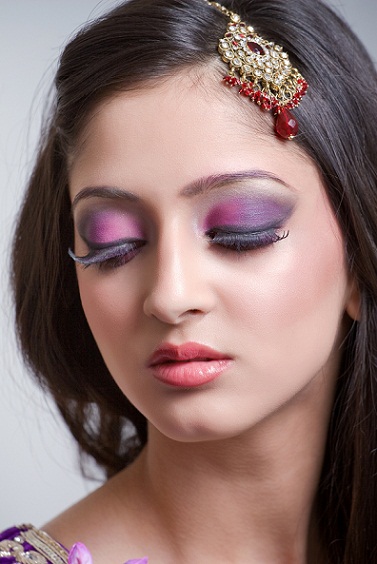 If you want to look elegant in complete traditional style then this hairstyle is for you.It is a neat hairstyle with just side parting done which looks best on a round-faced woman.You don't need to have long hairs for this hairstyle it can be done on medium hairs too.Mang Tikka is placed on the side because of the side Mang which can be either on left or right side.
12.Simple Hairstyle For Mang Tikka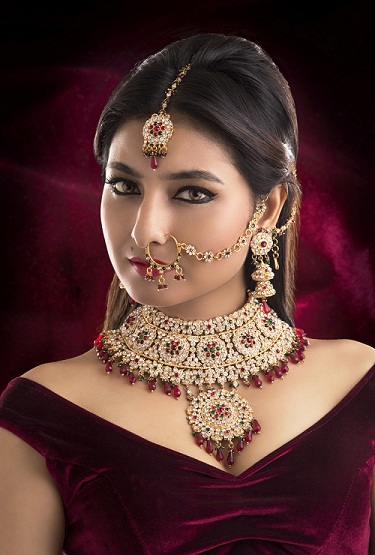 This is a simple hairstyle but it's looking elegant because of the Mang Tikka and other jewelry items that complete an Indian bride.This simple hairstyle is worn by a woman in India every day but it looks simple because it does not have any jewelry items but the same hairstyle is looking elegant because of the added jewelry items.
13.Messy Bun at the Back
This is the most common hairstyle for the Indian brides you must have seen it on the bride or on brides sisters because of it's simplicity and added jeweled items it is looking more elegant.To make it more attractive you can add floral accessories to the bun or use some head jewelry items.
14.Straight Side Hairs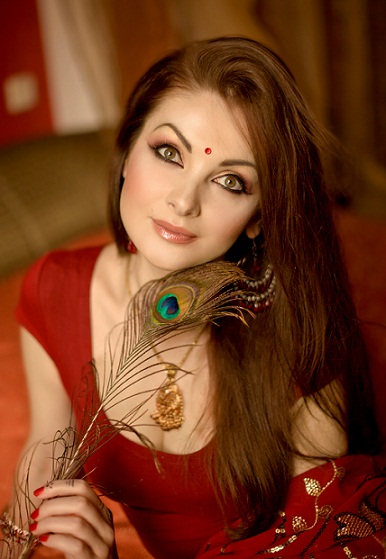 This is the simplest and common hairstyle for the Indian brides nowadays it will not require any fo your time you just need to straighten your hairs leave them on one side.Because of neat and simple design, it can be worn with any type of dress.This will look best when you will have medium length hairs because longer hairs can be messed up if you leave them open.
15.Side Parted Bun with Dupatta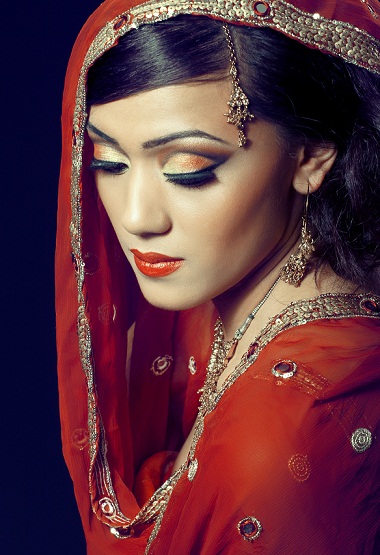 This is another simple wedding hairstyle for the Indian brides.In this style, you need to make a neat side parting and then take hairs at the back of your head letting the major part of your head front side covered with hairs.Make a bun at the back of your head and keep dupatta on it.Add Mang Tikka on the side mang which will complete the hairstyle according to Indian traditions.
16.Wavy Bun with Flowers
This elegant hairstyle will look glamorous on any woman whether you are a bride or not because of it's simplicity and the way it is stylized.It will work for both long and medium hair length you need to make wavy hairstyle into some curls and make a bun at the lower end part of your head.Use clips or any form of hair pins to hold the hairs together at the bun it should give the impression like bun is hanging.Add roses or any other form of flowers on your hairs to complete your hairstyle.
17.Asymmetrical Wedding Reception Hairstyle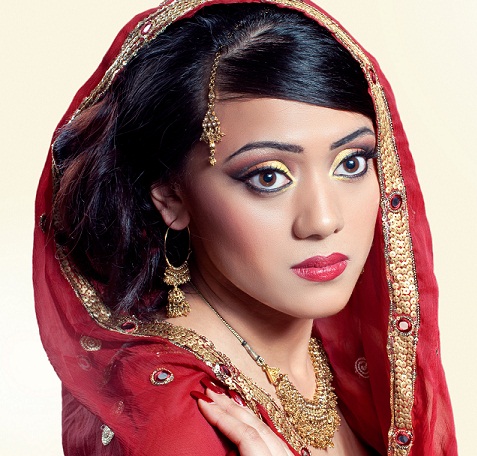 This is a bit similar to side parted hairstyle the one we showed you above it does not have bun at the back other styling is same.It is best to wear on reception ceremonies the side mang can be on left or right side use thin Mang Tikka because of the side mang if you are going to make middle mang then use heavy or thicker Mang Tikka.
18.Thin Hair Back Bun with Head Jewelry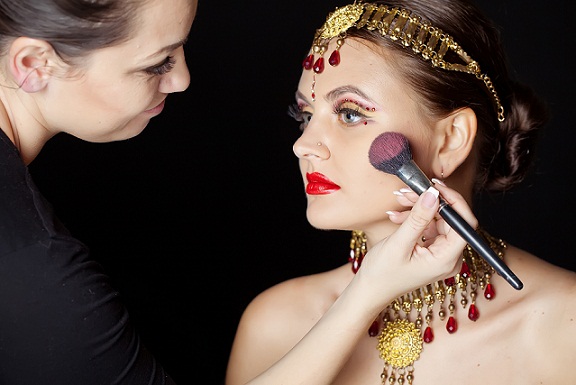 It's a simple back bun for the thin hairs which normally Indian woman have in their casual routine but because of the headband jewelry it's looking more elegant and stylish and suits any type of traditional dress.Brides can wear this hairstyle on the later events or on festive occasions.
19.Simple Messy Bun for Indian Brides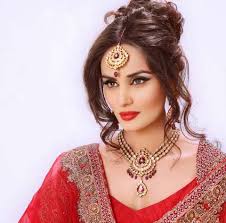 This simple messy bun is with some curls one of the easiest and fastest ways of styling your hairs.The middle part of hairs is left for the Mang Tikka which is necessary for Indian weddings.Nowadays brides don't use much Mang Tikka jewelry but we would suggest you should wear it because it's the true tradition of India and Indian bride makeup is incomplete without the Mang Tikka jewelry.
20.Double Mang Tikka Hairstyle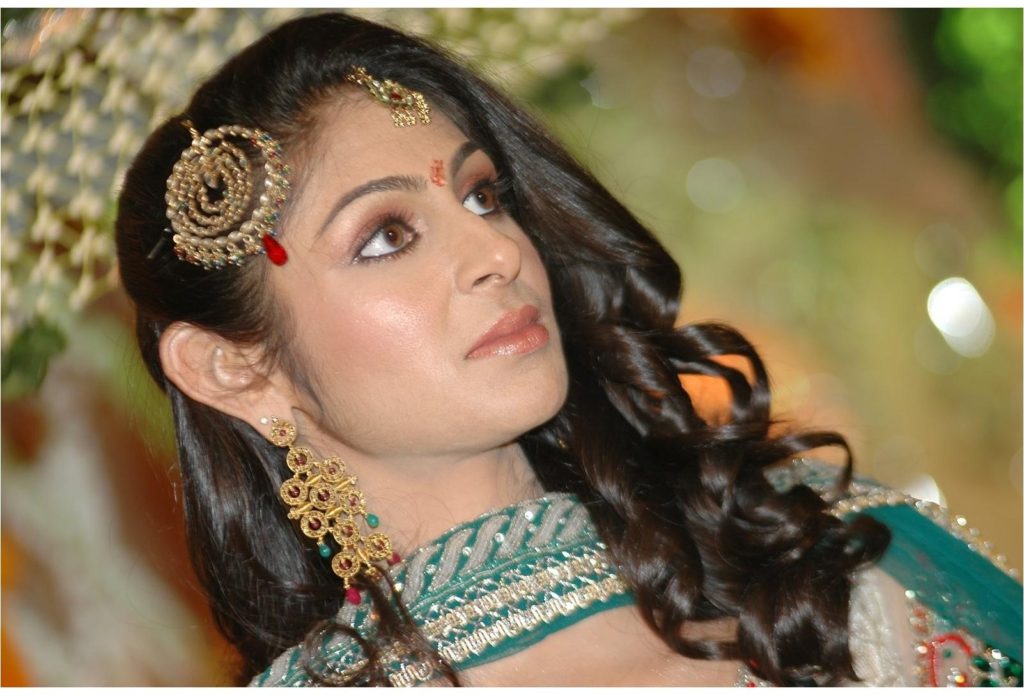 All the previous shown hairstyle were with single Mang Tikka but doubling it will add more beauty you obviously will need another set of Mang Tikka to complete it.It is one of the unique hairstyles because not every woman goes for double Mang Tikka.You should try this on wedding parties or on festive occasions with any type of traditional dress of your choice.
These were the top Indian Bridal Hairstyles which brides from India or anywhere in the world can wear we have shown 20 but will be sharing more in our later posts.You should pick those hairstyles which are according to your face type and suits your hairs.