Divani Bridal Couture Collection has every type of bridal dress that you need to wear during the wedding season and after that check out the gallery and see all the designs.
Divani brand is located in Lahore and they have launched their latest collection which has many different types of bridal formal and bridal day dresses.This collection is inspired by old Lahore city you will see lots of different patterns of embroidery and printed patterns.
Some jeweled patterns are also used which is making this collection luxury also it is launched during the winter season but you can wear it till the spring.Winter is the season of ceremonies in Pakistan there will be lots of wedding you must have received some invitations too.
Divani Bridal Couture Collection
This collection has lots of versatility from Pakistani bridal wear designs to Indian bridal dresses mainly lehenga and sarees are purely in Indian design.The brand has used the mix of both countries so you have lots of different designs to choose.
Jeweled work is included in every part of the dress on both back and front side it will also depend on the type of dress like for lehenga dresses jeweled work will be on more on lehenga.
These dresses are not only for the brides even single women can wear them also on weddings as a guest but most of the dresses are dedicated to the brides.So as a new bride if you are looking for some traditional Indian type wedding formal wear dresses then this collection is for you.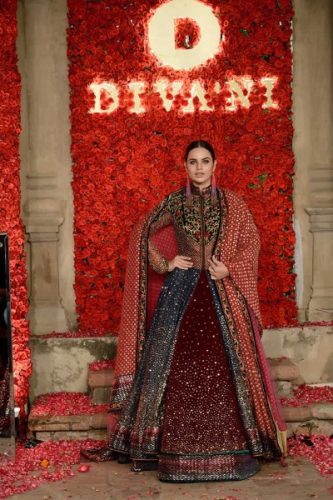 Every dress is designed with great care and artwork combining different traditions which will be loved by all.Floor length dresses are more seen in this collection because of the trend of wearing them on special occasions.
Divani Bridal Couture Collection is available online on brands official website you can view some dresses in the following image gallery.
See More:-Misha Lakhani Bridal Fall Season Collection