Sana Abbas Formal Bridal dresses are in traditional elegant designs that every bride will love to wear on different events that will happen after her wedding ceremony.
As wedding season is starting soon lots of brands and designers are ready with their new formal and bridal day collections.Sana Abbas is known for bridal and formal wear dresses her latest work is in light colors with cream and jeweled elements on every part of the dress.
These dresses are specially launched for the winter night events you can wear these dresses as a wedding guest too but the main focus is on brides so as a new bride if you are looking for some traditional luxury elegant dresses then this collection is for you.
Sana Abbas Formal Bridal Dresses
You will find many bridal formal dresses of these types from different brands each designer and brand may use the same design but will add their specialty and unique design pattern in them.This is what Sana Abbas have done in these beautiful formal dresses.
These dresses are worn by Aiza Khan and she has done great justice to each dress every dress is looking nice on her because of the designing patterns.It will look prettier on you because you have options to customize it according to your need and you can also wear more fancy accessories.
Color combinations are lighter although winter is the season of dark clothing but Sana Abbas have used light colors because of jeweled embroidery work.Jeweled embroidery looks more visible and luxury on light colored dresses almost every designer uses this strategy.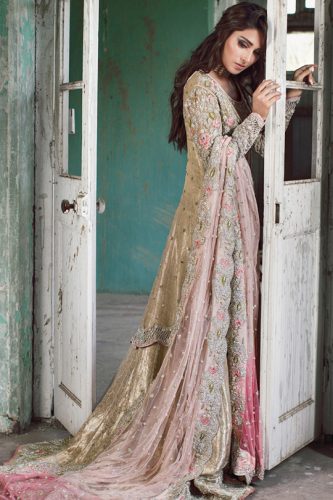 All dresses are in floor length long maxi type forms which brides like to wear on special occasions especially in winter season.Sana Abbas Formal Bridal dresses are shown in the following gallery you can view every image in full-screen mode by clicking on it.
See More:-Suffuse Luxury Bridal Collection