Tena Durrani Summer Bridal Lehenga Formal Collection is the perfect formal wear for newly wedded brides looking for some exciting lehenga dress designs that can be worn in summer.
Tena Durrani is famous for special occasion dresses especially in the bridal category her bridal collections are worn by Pakistani brides all over the world because of sophisticated bridal dress designs that designer has launched till now.
Tena Durrani collections are considered luxury and worn on special occasions besides her bridal collections there are some nice formal and casual collections but the main focus of Tena Durrani is on bridal dresses and today we are going to show you her latest bridal lehenga formal collection.
Tena Durrani Summer Bridal Lehenga
Lehenga Dress
Lehenga dresses have significant importance on wedding events because of the traditional history of Pakistani fashion.Lehenga is more worn in India but there are some lehenga dress lovers in Pakistan because it was one country that's why there are similarities in fashion.
But lehenga designs are different in both countries Indian fashion have more variety because they have more demand of the lehenga dress.If you want to see Indian bridal lehenga designs then have a look at our Luxury Colors Indian Lehenga Dresses post.
In Pakistan lehenga is only worn on wedding events some woman consider it for Eid and other festive occasions but wedding events are more seen with a woman in lehenga especially the bride her bridal dress is with lehenga just tops are different.
Summer Bridal Lehenga
Bridal related dresses are not much launched during the summer time in Pakistan because of summer heat there won't be any wedding events.But some people have already fixed their marriage ceremony after the Eid which will be in the heart of summer around the July which is a bad idea considering the weather conditions.
Brands like Tena Durrani knows that there will be wedding ceremonies in summer that's why Tena Durrani have launched this beautiful epic bridal formal lehenga designs.
But it is not necessary to wear these on wedding events as a new bride or single woman.That's why the collection is named formal lehenga which means any special occasion.It can be a social gathering or the festive occasion since the Eid is near you can consider these dresses for Eid also.
A formal occasion can be of any type it can be an event after your marriage or Eid function choices will be up to you designer has presented the designs that can be worn on any special occasions.
Tena Durrani Summer Bridal Lehenga Formal Collection has the bridal word inside it which is what most of you considering that only brides can wear them but you can wear these as a single woman also on special occasions.
Lehenga dresses are related to brides that's why brands launch them with bridal names so they can more focus on brides as formal bridal collections are for new brides but no one is stopping you from wearing them as a single woman on the special occasions of this summer.
Dress Designs
Considering it a lehenga collection you must be thinking that there won't be anything to discuss for the dress designs but you are wrong lehenga have many types and designs which are included in this collection also.
Indian style lehenga dress
Long floor length lehenga with choli
Embroidered printed lehenga with choli and short jacket
Kameez over lehenga
A line style kameez over lehenga
Short kameez over lehenga
Net long kameez with middle cuts over lehenga
Luxury colors and delicate embroidery on lehenga dresses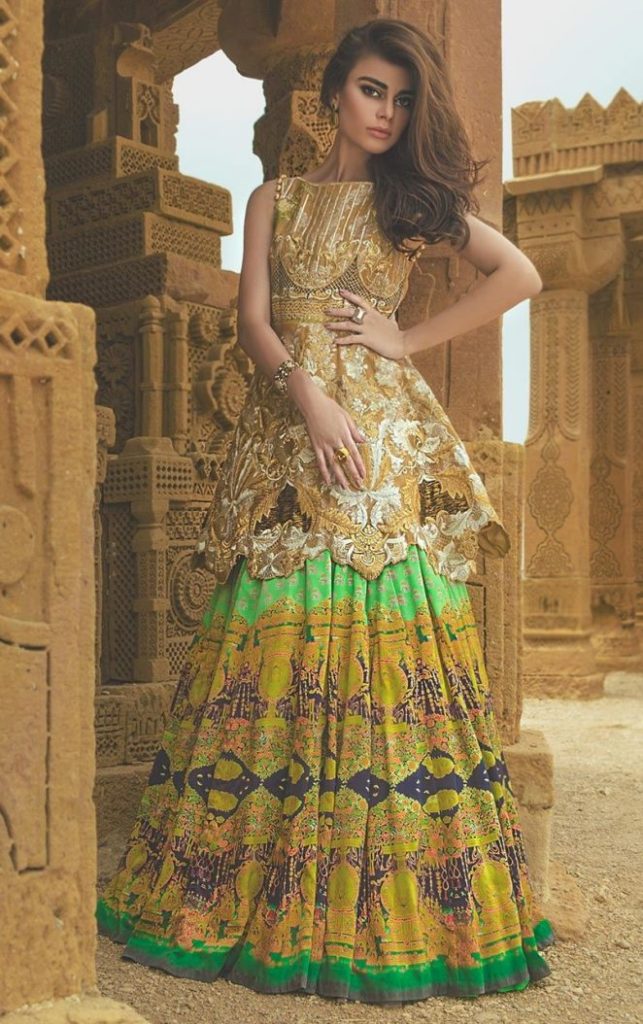 Colors:
Crimson
Golden
Cream
Green shades with other darker colors
Dark black colors with other darker shades
Off white colors
Light blue mixed with other colors
Silver color
Orange color shades
Tena Durrani has included everything that stylish woman needs to wear during the summer time or even after some.Don't consider these as the only summer dresses you can wear them in autumn and early winter occasions also.
Summer lehengas are always designed in soft fabrics there are some handful lehenga collections launched because most lehenga dresses are for the autumn and winter season in Pakistan.But because it's the summer season designer have used soft and comfy fabrics which will make you feel comfortable during the summer time.
Lehenga is itself a comfortable dress form except for those heavy embroidered lehengas that are worn in winter time and Tena Durrani have fully used this dress form to creater her magic this summer.As we mentioned earlier these dresses can be worn on any special occasions it can be Eid or any other event.
As Eid is near you might consider Tena Durrani Summer Bridal Lehenga Formal Collection for your Eid dressing because all the dresses inside the collection are perfect for Eid.You should give a try to lehenga dresses on Eid because while most girls will be considering shalwar kameez and other modern dress forms on Eid you can steal the show with these lehenga dress designs.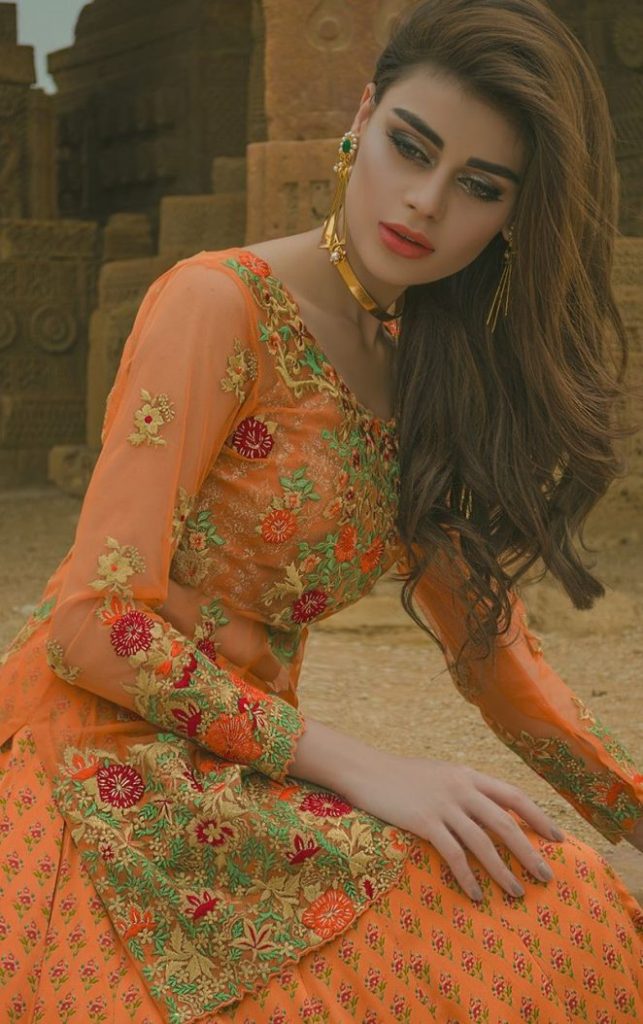 By wearing unique and different dresses form from others it will give you an advantage over style and you will be noticed more then any other person around.But its not easy to carry that's why it is considered only for one event night which is only for some hours.
But because of the soft fabrics you can easily carry these beautiful lehenga dresses anywhere you like.Lehenga dresses are not worn by everyone it is even seen on wedding occasions that woman are now considering other dress forms but if you are following yourfirstwedding.com from some time then you must have seen lot's of lehenga collections launched in recent time from both Indian and Pakistani brands.
This shows the popularity of lehenga dress which is why we are giving advice you to wear these on Eid if you don't have any wedding ceremony near to attend.If you have some wedding events to attend then you are good to go with these dresses and wear your choice of Eid dresses you like.
Tena Durrani Summer Bridal Lehenga Formal Collection is launched and available on all leading stores having Tena Durrani collections.
See More:-Tena Durrani Summer Wedding Formal Collection