Teena Durrani Spring Summer Bridal Party Wear dresses consists of sarees,floor length dresses and A line cut shirts with jeweled embroidered work check out all the designs below.
Teena Durrani keeps bringing new designs every now and then she is not waiting the season to change and then launch new collections she has already launched 2 collections before this.All the collections are different in designs and dress forms this particular collection are for bridal party wearing.
Other two collections were Omorose elegant bridal collection and Omorose collection bridal wear on fashion week.Not just bridal wedding day dress is important bridal party wear dresses are also important newly wed brides also buys bridal party wear dresses when she is shopping for the bridal dresses.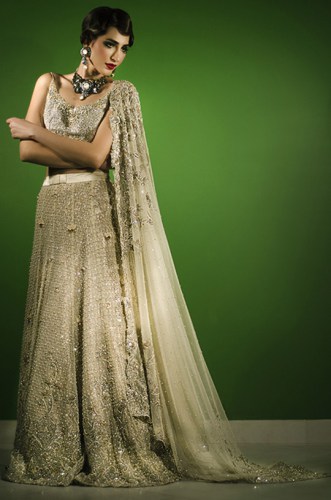 Because just after the wedding bride has to attend some ceremonies and events like dinner parties at friends and family places.This collection is much different from other two bridal collections of Teena Durrani because in this you will find Indian style sarees.
Sarees are more worn in India then Pakistan almost every women wears saree in India.But in Pakistan trend is different saree is worn only by older women on some occasions and by those women who are migrated from India.
Otherwise floor length dress forms of different designs are chosen by most of the women.You will find jeweled thread and embroidery work in some of the dresses with some crystal work of embellishments.
Sarees are also designed with crystal and silver thread work giving all the sarees a luxury look that you want to wear on special events.Jewelry shown in the images is for your example you will not get jewelry with these dresses.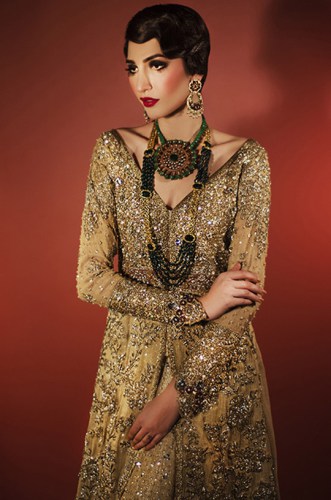 Make your spring and summer parties more stylish and luxury in looks by wearing any of the dresses shown in Teena Durrani Spring Summer Bridal Party Wear gallery.
Teena Durrani Spring Summer Bridal Party Wear