Saira Rizwan Royal Velour Spring Summer Collection are the bridal party wear dresses that Pakistani women can wear on this season special events check the designs below.
Saira Rizwan is the luxury bridal party wear and bridal event wear designer of Pakistan her collections are based on traditional and modern bridal designs of Pakistani fashion.We have reviewed her previous collection which was bridal party wear and now its time to see royal velour collection.
As the name suggests it has royal design look inspiring from Mughal dynasty with modern touch and designs.There is not much dress forms that you will see in this collection just 3,4 types but well designed with different art work of embroidery.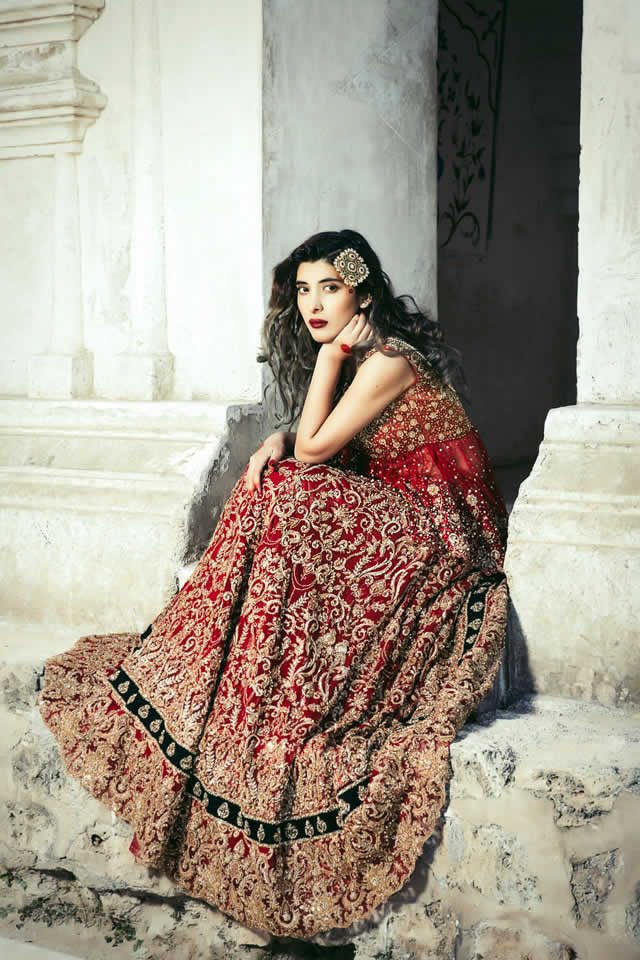 All the dresses are in floor length forms mostly you will be seeing lehenga which is liked by South Asian women.We have covered lots of lehenga designs for you specially for the Indian women you can check our Indian bridal dress category.
These dresses can be worn on mehndi event and reception ceremonies because red is the most chosen color for the baraat.Heavy embroidery work can be seen on the lower part of the dress which is quite often used on most of the Pakistani bridal dresses.
Golden and silver thread work is used with high quality dabka and embroidery work that you may not find from any other brand.There are some red dresses which brides can wear on her baraat day you will see Indian bridal touch in these dresses too because Pakistani bridal dresses are of different designs.
Some modern designs are also applied on the upper part of the dress which is making this collection more attractive.These are heavy dresses because of the embroidery work done on the dresses it will be difficult to wear in the summer season.
But designer have used soft fabric which allow women to carry the dress easily see all the designs of Saira Rizwan Royal Velour Spring Summer Collection from the gallery.
See More:-Istanbul Bridal Collection
Saira Rizwan Royal Velour Spring Summer Collection