Nida Azwer Bridal Party Wear Dresses are for the spring and summer events for the newly wed brides with heavy embroidery work all over the dresses.
Nida Azwer is one of the top designers of Pakistan her collections are based on bridal and formal wear dresses in traditional and modern designs.These party wear dresses are for the newly wed bride which has to attend some events just after her wedding.
Summer will be hot so soft fabrics are used by the designer in fabricating heavy embroidery on them.Handcrafted zrdozi work can be seen on dresses which is loved by women when ever they are looking for the party wear dresses.
Different traditional forms of dresses are used by Nida Azwer floor length lehenga is one of them which women loves to wear on events.Her previous collection was also reviewed on yourfirstwedding.com you can look Mystical Garden collection to look at some of the designs she have launched earlier.
More modern and traditional combination of designs are used by the designer in this spring and summer bridal party wear collection.Some of the jeweled embroidered work can be seen on the dresses which is necessary if dress has to be in luxury category.
Most of the Pakistani bridal party wear dresses are in luxury forms because of jeweled stone work with embroidery designs which will make dress heavy.But in summer collections designers use soft fabrics so that women can carry these heavy embroidered dresses easily.
In winter its quite easy to wear heavy dresses because its cold and you want to wear layered clothing in winter season.But summer is so hot in Pakistan soft fabrics are needed and there are some events coming like Ramzan and Eid.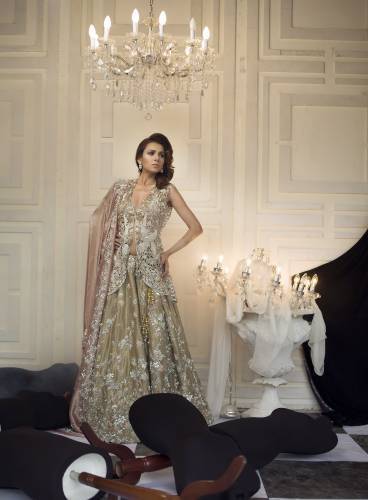 There will be lots of iftar parties and if you are new bride then you should wear some luxury style traditional dresses that you can find in Nida Azwer Bridal Party Wear Dresses collection.
See More:-Zainab Chottani Bridal Wear
Nida Azwer Bridal Party Wear Dresses