Pakistani wedding dresses for women are available in so many different designs its hard to choose what you should be wearing we have selected some of the summer wedding dresses for you.
Summer is not the wedding season in Pakistan but some people get married just after Eid and this year both Eid ul fitr and Eid ul Azha are going to be in extreme hot days.Because Islamic calendar works in that way and its tradition to have wedding just after Eid and this year it will be hot unlike some years back when it was in winter.
Because winter is the wedding season in Pakistan every body decides to have wedding in cold days in Pakistan.But if you have wedding in summer then we have perfect dress designs for you that you can wear.Pakistani wedding dresses have heavy embroidered work on them that will make dress hot too and you can't wear a hot dress in summer.
But you don't have to worry about it we are always here to guide you we have collected some bridal dresses that can be worn in summer season weddings.These are made from soft fabrics and have same amount of embroidery but not completely same type that you have seen on winter wedding dresses.
All the dresses are in floor length types which you know is the trend of weddings all over the world but it has more types in Pakistan then any other country.The images we are going to show you are from different designers these types of designs are easily available on shops which have wedding dresses.
Baraat Event Dresses
First we have a beautiful bridal dress that is shown with groom this dress have upper part with different embroidery which is not matching with lower part you can see net maxi in golden color which have different lace and thread work on it.
This can be perfect dress for your wedding day because its not heavy as its looking soft fabric work is used you can easily carry this dress without any problem.There is not much to talk about the groom dress its a simple black sherwani with mathcing khussa.
Red is the color of love and Pakistani bridal dresses are mostly in red combinations as you can see the above dress which have red combinations on different parts.Heavy type embroidery is done this is one of the classic bridal dresses that women choose to wear on weddings but its not heavy as its looking.
You can choose this type of dress for this summer season wedding if you are looking to do the classic Pakistani bridal makeup and want to look like one.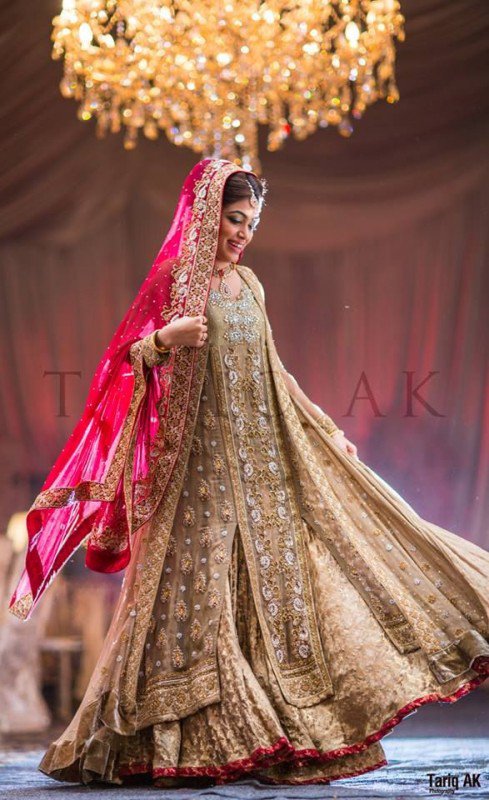 This is another great dress with elegant design inspired from Mughal dynasty mixing with some modern and traditional designs it has net and lace work on front part of the dress with embroidery done with golden thread.The lower part of the dress have red border line which is matching with pink duppata.
Every work on dress is making it more elegant and stylish then any wedding dress you sure will look more gorgeous then ever if you wear this type of wedding dress.These are available at different designer outlets even on shops too which you just have to find it.
This is another gorgeous floor length bridal dress in red and golden color golden thread work can be seen on the patches one of the most chosen dress type in every season you can pick it for summer wedding too.With golden embroidery work gold jewelry will always look more prominent if you want to match jewelry with some dress this one has to be.
Mehendi Event Dresses
We have shown you some of the baraat event dresses now lets see some mehndi event dresses which most of the people ignore this is another event that happens before baraat and dress you choose for this day should also be in stylish state and design.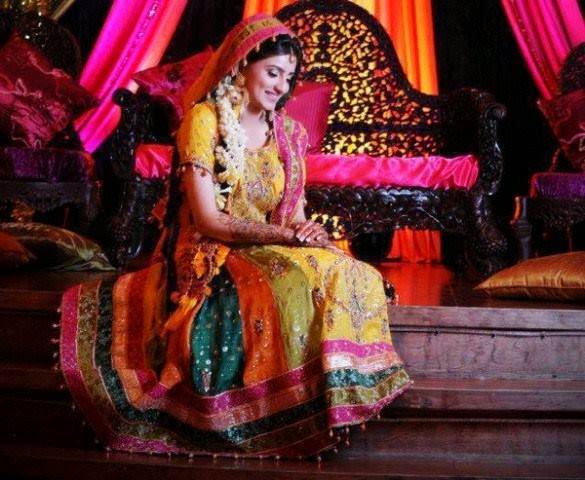 On mehndi minimum embroidery dress is worn and it should be sleeveless too not because its for summer wedding because people have to perform the mehendi rituals.In which they will rub haldi or mehndi on your body.
Yellow is the color of mehndi and the dress worn on this event is also chosen in yellow color but there are other colors too like you will see in below dress.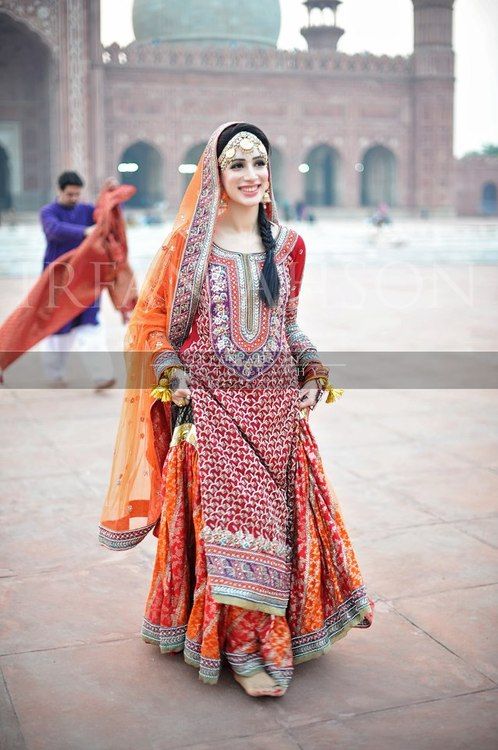 This is a different type of mehndi dress that you may have not seen because of different color scheme other then yellow which is chosen on mehndi events.You can choose this dress for your mehndi because its different and you will look different then other brides who choose yellow.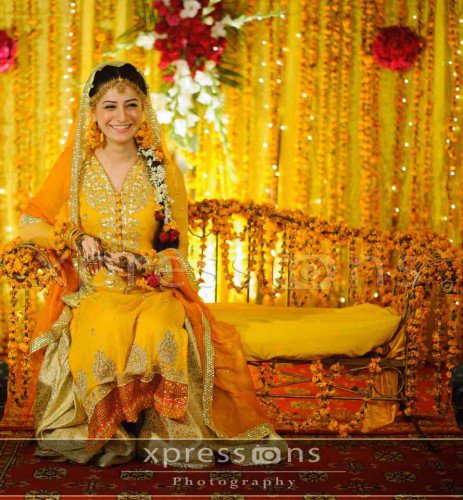 Again a yellow dress for mehendi but its with some embroidery work with net duppata the best part is its matching with the background design of the mehndi event.You can consult your wedding planners or where your mehendi event is happening to match your dress with that event interior.
Valima Event Dresses
Valima is the reception ceremony just like all the event dresses of wedding this dress has to be in elegant and luxury styles.Its always chosen in light and bright shades you can pick many color types like blue,orange,pink,purple we have some some the examples you can look at.
Valima is the last event of the wedding the dress you choose for this day should be in bright shades other then red color combinations.But you can choose pink for this day the first one we have the blue color dress with silver embroidery and thread work.
This one is another beautiful valima dress with pink color shades and silver thread and patched work on some parts of the dresses.Net upper kameez can also be seen which is the perfect design to wear in summer season weddings make you valima more stylish by wearing this dress.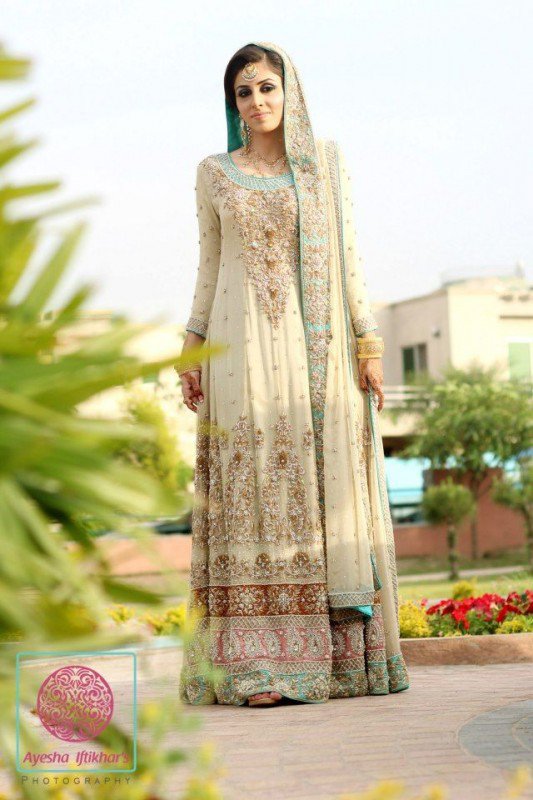 Different color combinations can be seen in this dress this one is in different types of embroidery that can be seen in lower part of the dress which have different borders of art work.Neckline area is blue and its matching with the blue color of duppata and lower border line of the dress.
We have now shared all the the three important event dresses for your wedding you can choose your favorite design these are specially chosen for summer weddings you can get these dress types from any shop or retails which have wedding collections.
Wedding is the most important chapter of our lives and you should make it perfect by selecting everything perfect for the wedding.Like us on our social pages and keep remain up to date to the latest content of wedding to make your wedding more special.