Traditional Modern Bridal dresses are the collection of modern and traditional bridal dresses for the Pakistani women designed by Maheen Karim check out all the dresses below.
Maheen Karim is one of the new leading bridal dress designer in the fashion circle she has designed various different bridal dresses for Pakistani women which includes both traditional and modern designs.Recently she has launched her latest work in the form of Traditional Modern Bridal dresses named "Jashann".
All the dresses of this collection have been designed with luxury elements and luxury embroidered work which include high-quality fabrics and embellishments.
Traditional Modern Bridal Dresses
Jashann means celebration winter is the time to enjoy and celebrate different events especially wedding ceremonies which will be happening in large numbers.Whether you are a bride or a guest on the wedding this collection have all the variety for you.
From traditional vintage design to modern silhouettes Maheen Karim has designed everything for you that you need to wear during this wedding season.
Every bridal designer in Pakistan wants to create something unique and different which differs from others and have all the characteristics of a Pakistani fashion.Maheen Karim is one of them who wants to leave her mark in the fashion industry with her unique bridal designs.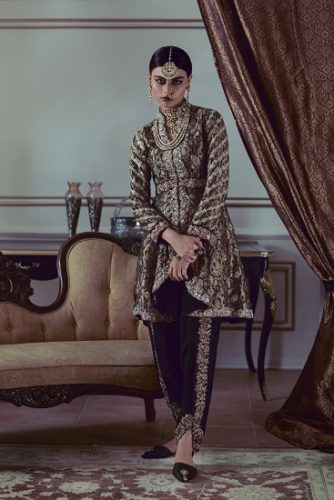 These types of dresses are also known as glamorous bridal dresses in traditional designs otherwise the western form of glamorous bridal dresses is of different types.You can browse the bridal gowns category and see the western type of bridal dresses but these are Pakistani wedding wear which have some traditional designs.
That are loved by women on festive occasions and wedding ceremonies, whether you are western fashion lover still you will like to wear traditional dresses on wedding ceremonies.That's why designers like Maheen Karim have the answer for you in the form Jashann Traditional Modern Bridal Collection.
See More:-Shiza Hassan Winter Bridal Dresses