Engagement Party Dress is bit similar to wedding ceremony dress in Pakistani culture check out different types of dresses for engagement ceremony & party.
In Pakistani culture wedding have lots of important events that are necessary for both bride and groom.Wedding preparations are always started way ahead then the wedding day.Engagement is the part of wedding preparations it does not have a fix and require time some are engaged 3-5 years before marriage some are engaged from child hood.
Tradition of Pakistani weddings are almost same as Indian weddings both countries share similar background even some dress types also.This ceremony is important because you are agreeing to marrying a specific person just like all wedding ceremony dresses engagement dress also have many types.
Mostly it will look same as your bridal dress but there are some differences like colors are always light just like valima dress.Jewelry types are also less to have a different look then the wedding day.
Ceremony starts with "Dua e khair" then everyone wishes to bride and groom for their future.After everything is done engagement party starts where every enjoys and sing songs.
There are many designers in Pakistan who are launching engagement dresses collection now a days.From heavy embroidered work to simple sleek designs.Everything is available online and in the market now a days because of the fashion awareness and trend Pakistani brides are more aware now what they are going to wear.
For designers its a tough competition now because many new brands have entered in the market with new pattern of dresses.Now brides can choose different varieties between dress types.If you are going to invest more on your wedding then some luxury designs of heavy embellished work dresses are available from top brands and designers.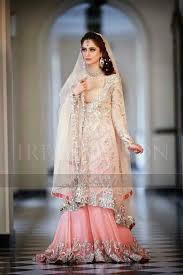 We have already shared some of the luxury and fancy bridal collections which had the engagement dress in them.We have selected some of the engagement dresses that are from top designers.These dresses are simple sleek and luxury all the forms have been selected so you can see what types and designs are available in the market for you.
Because of the soft and light makeup of engagement ceremony pastel colored dresses are worn to compliment makeup and dress together.You can choose any form of dress from long frock,lehengas  to gowns every dress type is different and you have to do different style of makeup for them.
Take a look at Engagement Party Dress Designs specially chosen for this season and see what type of designs are available in the market to wear you can buy these dresses from any of your favorite brand.
See More:-Pakistani Wedding Mehndi Dress Designs