Bridal Lehenga Pakistani Wedding Wear are the traditional and most worn wedding dress in the country we have selected some new designs of lehenga dresses for you check them out.
Lehenga is popular in both India and Pakistan we have shared lots of lehenga dresses before you can check our Indian bridal category and see some of the lehenga dresses for every season.
In Pakistan wedding season starts from winter to spring there will not be much weddings in summer season but as Eid is in the mid of summer this year and there is a tradition of marriages happening after Eid.
So soft fabric bridal dresses are used in this season this is hard to find because embroidery work on it will make it much heavier.But designers find a way to balance both things it will be heavy that is for sure but will be lighter then the winter wedding dresses.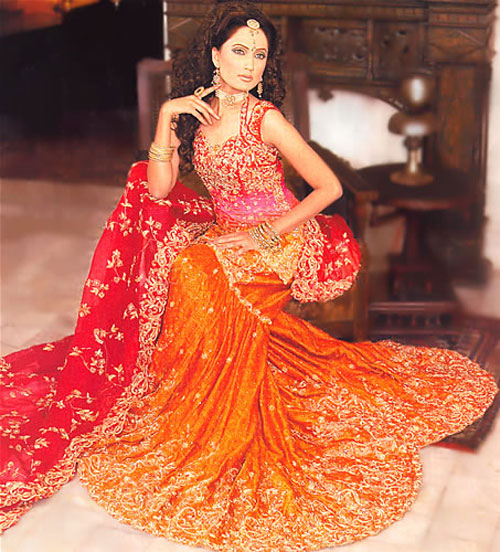 Light colors should be chosen but red is always the first choice of the bride we have proven this before also that red is not the only color for Pakistani bridal wear.As we are focusing on lehengs there is one lehenga type in Pakistan but in India you will find lehenga saree and more different forms of it.
We can only show you some examples and ideas its up to you how you take those ideas on to yourself.The best thing about lehenga is that not only bride can wear it on wedding other women who are attending the wedding ceremony can wear these too.
But those are known as party wear lehenga which is slightly different from bridal lehenga.Bridal lehenga have more embroidered work and some jeweled work too and it is more fancy and romantic in design.
So take a look at Bridal Lehenga Pakistani Wedding Wear from the gallery and find the dress you are looking for your wedding happening in this hot season.
See More:-Embroidered Bridal Lehenga