Dror Geva Timeless Bridal Collection was launched earlier this month with dresses ranging from luxury to simple stylish bridal designs check out the gallery to see some of the designs.
Spring and summer time is the wedding season in some countries and its most enjoyable time of the year that's why most weddings happen during this time of the year.If your wedding date falls on the summer season dates and you are ready to shop for wedding shopping then today we have got a fabulous luxury dresses collection for you Dror Geva Timeless Bridal Collection.
Dror Geva is from the land of bridal dress designers Israel he is in the industry from many years and left his mark with fascinating luxury bridal dress designs.Dror has over 13 years of experience of haute couture dresses which includes evening wear gowns also.
Dror has defined a new era of luxury bridal and evening wear gowns through his luxury and handmade work on the dresses.All the gowns are handmade top finest fabrics, silk, laces and jeweled work is combined together to produce something extra ordinary that looks pleasing to eyes.
Dror Geva Timeless Bridal Collection
This collection includes both classic and modern designs with luxury and simple designs and combination of lace and jeweled crystal work that is seen nowadays on almost every bridal dress.This collection is for the summer season that's why you will see lace and net-work on some of the dresses.
Although there is a picture of a girl wearing one of the dress in the snow indicating that these dresses can be worn during winter weddings also.But it will depend on you if you think you can wear these types of bridal gowns in the winter cold then do it.
Because it's not about the season it's about the style and brand name whenever you see designer name Dror Geva you are sure to get guranted design results.Fabrics are always of superior quality which will last long for the years to come.
Bridal dress is a remembrance of special moments of your life that's why it is chosen with care and considerations as you can see on yourfirstwedding.com we have got designs for every season region wise.Gowns may look similar but every designer has their own signature design that you will notice on their dresses.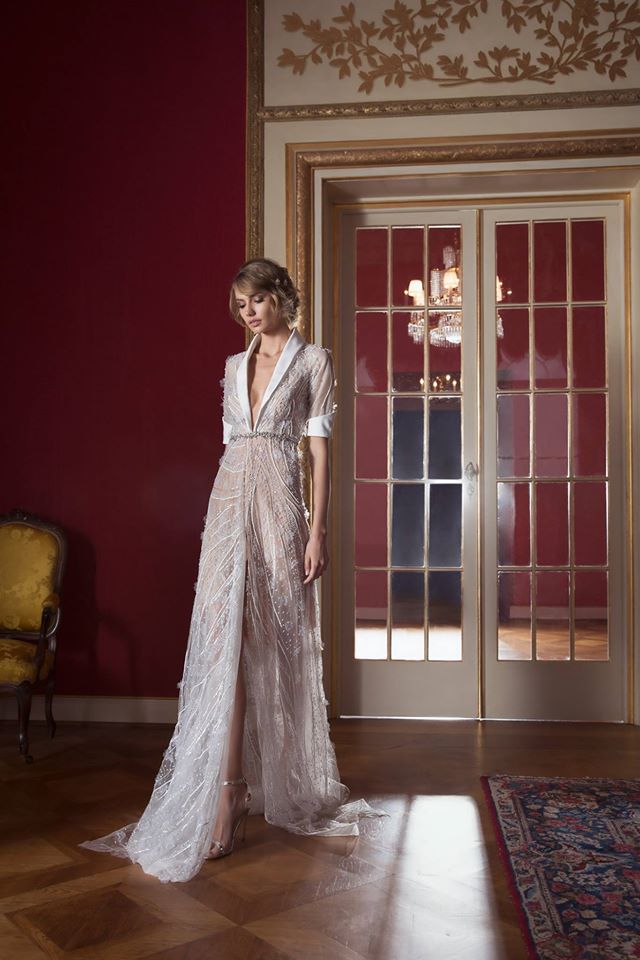 Last year we shared Dror Geva Summer Bridal Collection that had glamorous wedding dresses and this year the designer's new collection is based on timeless dresses which will be remebered for a long time.
So sit back relax and enjoy the Dror Geva Timeless Bridal Collection image gallery if you want to buy any of the dresses then log onto an official web of Dror Geva.