Mumtaz Jehan Bridal Eid Dresses are luxury vintage style dresses that shows Pakistani culture and tradition designed by one of the trendiest designer Sumbal Hammad.
Rich cultural luxury bridal Eid dresses have been launched most of them contains vintage design of Pakistani bridal and party wear dresses.Rich embroidered patterns and embellishments are used all over the dress on light and neutral shades.
Not much heavy embroidered work have been done designer have used light embroidery to match with the light prints on the dress.These dresses are economical and can be bought by the common women although these dresses have some luxury elements to make these dresses more special for the Eid.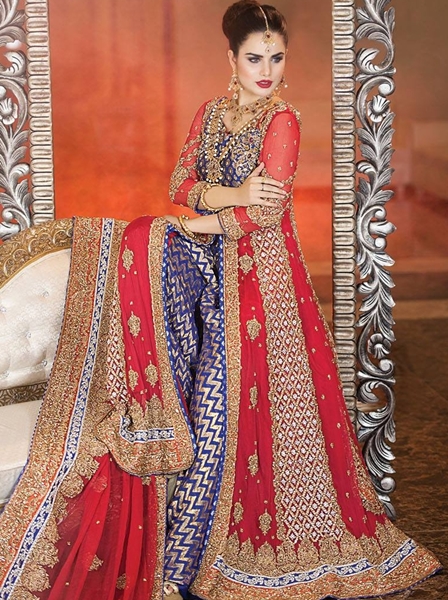 Pakistani fashion industry is booming now a days many new designers and brands are now coming and showing their best work.House of Aphrodite is one of the new brands who is making its mark in the fashion industry with their new traditional collection.
Sumbal Hammad have done a wonderful job here by designing beautiful traditional vintage style dresses otherwise most of her collections are based on modern patterns of clothing.Designer have shown her innovation by designing vintage style Pakistani dresses that once was famous and now these are more in luxury patterns.
These dresses are not just for the brides if you are single girl and looking to wear some really traditional and cultural clothing then this Mumtaz Jehan Bridal Eid Dresses is for you.Because it has all the designs and looks that you need to look great on Eid.
Eid is the festive occasion where every women likes to dress up in fashionable traditional dresses and one way to achieve this is to wear any dress of this collection.We are sharing some designs of Mumtaz Jehan Bridal Eid Dresses take a look at them and see which one suits your need you can buy these by contacting the brand on Facebook.
See More:-Bridal Diffusion Sana Safinaz Collection