Deepak Perwani Summer Bridal Wear have different types of traditional wedding ceremony dresses that are perfect for the summer season so lets have a look at them.
Deepak Perwani is one of the most famous Pakistani fashion designer working in the industry from some years now and have been designing different modern trendy clothing for men and women.He also have got awards for his work in the fashion industry some time ago he have launched his bridal collection.
This complete bridal collection is in traditional designs different elements of traditional luxury art have been used to make them perfect for the brides.These dresses are not for just one event it includes baraat event dress,valima dresses and mehndi dresses.
Not just wedding ceremony it does have bridal party wear dresses also in different traditional forms some dress forms included are atlas koti top with embroidery and neckline sleeves paired with fully embellished lehenga with some kora,resham,dabka work.
Stones and sequins are also seen on some of the dresses these are the elements that makes a dress luxury different thread work net duppatas are also used on those dresses where duppata was necessary.Some Indian style dresses are also included that is because both countries have same type of background and women wears same type of dresses.
For example lehenga is South Asian dress form that is worn widely on different occasions it is the ultimate choice for Indian women on parties and weddings.It is designed in different manner keeping in mind the specific event it is worn in Pakistan also but not that much there are some lehengas available in this collection also.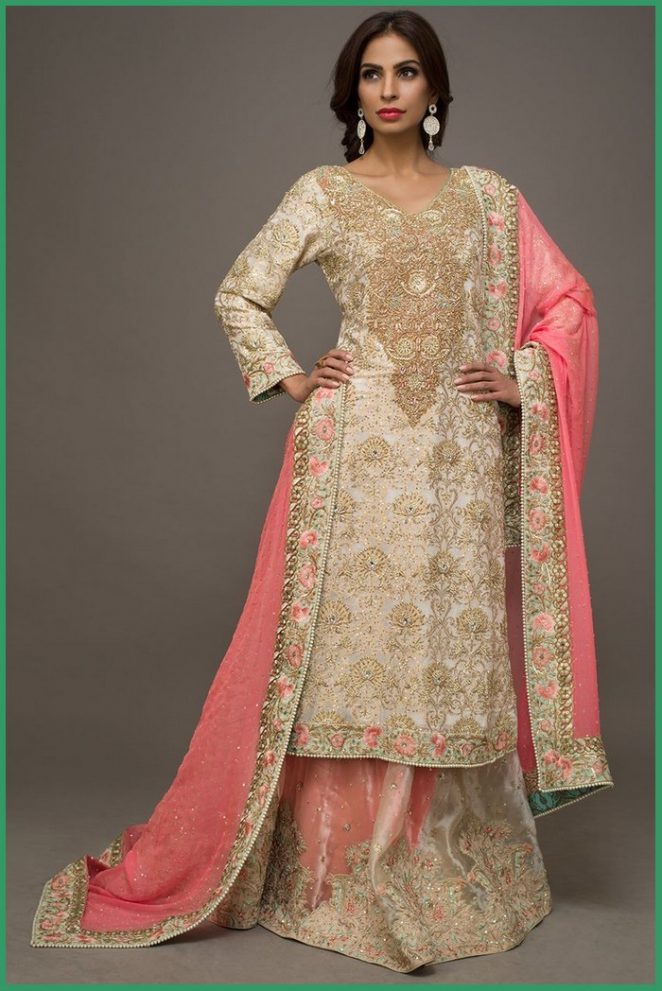 Some dresses are heavy embroidered and will be heavy to carry on the event but as a Pakistani women its always your choice to wear these types of dresses because of tradition.But designer have used light fabrics in Deepak Perwani Summer Bridal Wear so you can easily carry them anywhere.
See More:-La Vein Rose Deepak Perwani Bride Groom Wear