Oksana Mukha Glamorous Wedding Gowns are luxury hot and have the elegance to make your wedding special because of designs that will leave you speechless.
Oksana Mukha is a Ukranian brand started from the need of wedding dress for the newly established nation Ukraine after the end of Soviet Union.It started from the idea because Oksana Mukha hasn't had any wedding dress for her wedding in the late 80's she wore just a business dress.
But encouragement from her husband who was a fashion graduate forced her to start thinking of designing a wedding dress for her people.
Thus the idea was born to create a Fashion House that will design evening wear dresses and wedding gowns.
In 1991 Oksana Mukha started sewing wedding dress in her apartment which was available in the Ukranian markets and got famous because of the design and country's own designer brand.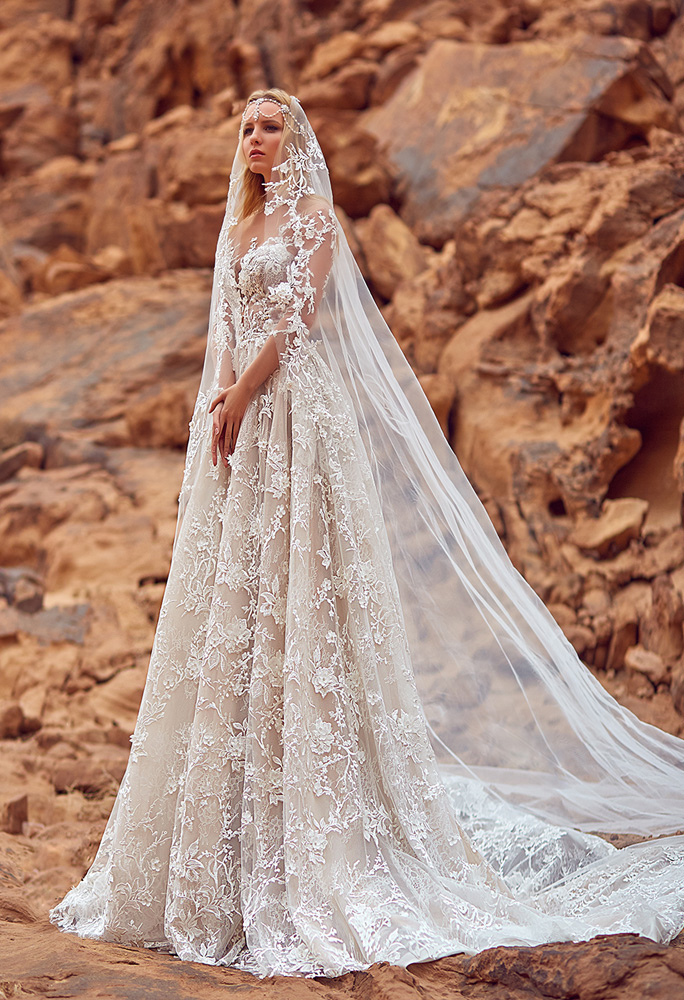 Later on, the brand got famous and Oksana Mukha dresses were importing to Russia and Western European markets.The company grew into the family business and almost every member was participating in creation and development of the brand nowadays Oksana Mukha daughter Katya is the face of the company.
Oksana Mukha has gone a long way from simple sewing of wedding dresses to Swarovski jeweled work bridal gowns which are now famous all over the world.
Oksana Mukha Wedding Gowns For 2018
This latest collection has the elegance of European wedding dress styles and luxurious style of Middle East.Each gown features romantic wedding dress spirit that woman needs on her special day.A touch of sensuality and figure showing dresses will make you feel special on your wedding day.
Available in Satin, Tulle, and Tefetta with soft pastel shades and delicate appliques with handmade flowers which are available with crystal, pearls and delicate embroidery.
Each dress of Oksana Mukha Bridal Collection has its own class and have similarities between design in a first look you will think that all the pictures are of the same dress but it's different.
Lace work is seen more which suggests that Oksana Mukha Glamorous Wedding Gowns will be suitable for the spring/summer wedding.
In most parts of the world weddings usually, takes place during the spring/summer time when the sun is bright and everyone is enjoying the atmosphere.That's why you will see brands focusing spring/summer time to launch their bridal collections.
With these dresses, we would suggest Floral Lace wedding shoes which will complete the look for your wedding.Check out all the designs from these images and choose the perfect dress for your wedding ceremony that will make you special.