Modern Indian Lehanga Designs have some luxury elements and classic designs that South Asian brides love to wear these lehengas are from different designers see all of them in gallery.
Lehanga is the first wedding dress choice for the Indian brides and for Pakistani brides its worn on later events both countries have different designs for lehanga dresses this post is about classic and modern Indian lehanga designs that are famous all over the world.
Modern Indian Lehanga Designs
Term modern refers to modern art work and cutting work lehanga is a dress type that is available so widely in different forms for different events.It is a evening wear dress also which is worn on special occasions but the bridal lehangas are more classical and elegant because these are designed for your memorable time.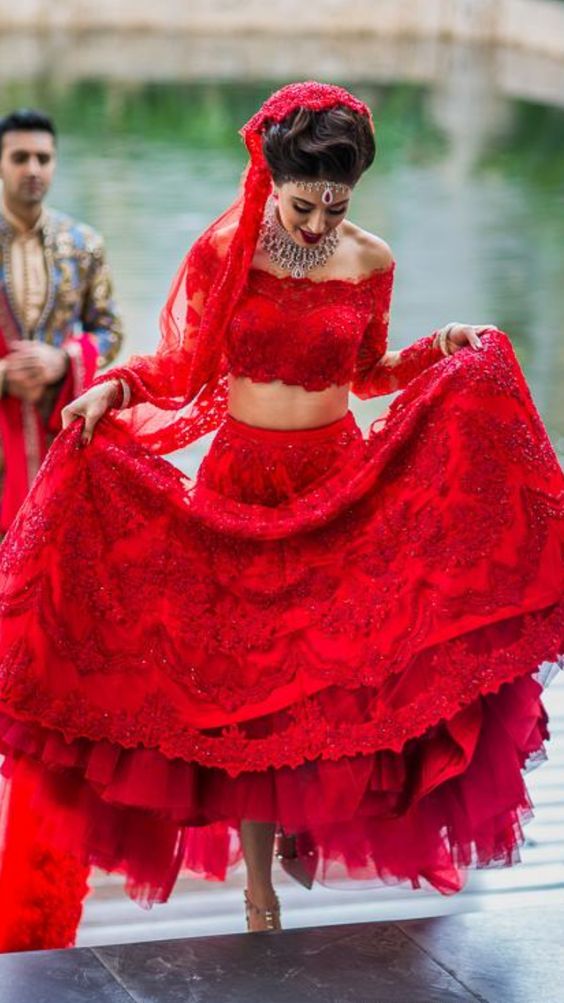 When buying a lehanga you should have two things in your mind it should fit according to your body and color should be according to your complexion that's why red color is more chosen because it can enhance any face color with the help of little makeup.
Red is also the ultimate color choice for wedding dress in South Asia because its a tradition to buy a wedding dress in red or pink or shades related to red.Embellishments and luxury work on dress will add more beauty and charm to lehanga dresses.
Red color is also chosen with other shades some are red and white while some are mixed with other colors it depends on season of wedding also if its the hotter season then lighter shades are preferred otherwise winter wedding dresses are filled with darker shades.
This trend is only seen in South Asia otherwise in other countries white is the common wedding dress color which is worn in both seasons but in India & Pakistan traditions and wedding fashion have its own importance.We have selected Modern Indian Lehanga Designs for the future brides check all the designs and find the design of your dreams.
See More:-Fishtail Lehanga Bridal Party Wear Dress