Eddy K Milano Bridal Collection is inspired from the city Milan architecture and designs which he have translated on dresses lets see the new collection from Eddy K.
Milan is the home of vintage architect and paintings many fashion designers take inspiration of those designs and convert them to dress designs this time its Eddy K who have taken those Italian art into his beautiful bridal collection.
This collection is launched for the next spring/summer season so if you have wedding ceremony next season then you can buy your favorite dress from this collection.
Eddy K Milano Bridal Collection
Eddy K is one of the talented bridal gown designer his collections are famous because of glamorous and luxury art work which includes some embellishments also.This collection also have luxury and glamorous designs with sleek art work that is specially done for the spring summer season.
In some parts of the world spring and summer season is best time to have wedding ceremony because of the bright sunlight and pleasant weather conditions specially in Europe and other cold countries where temperature remains cold all year long.
It has detailed lace work with embellishments all over the dress all dresses are floor length but different in design it may look similar but if you watch them closely then you will see the difference.All dresses are suitable for you if you are getting married around the summer year time.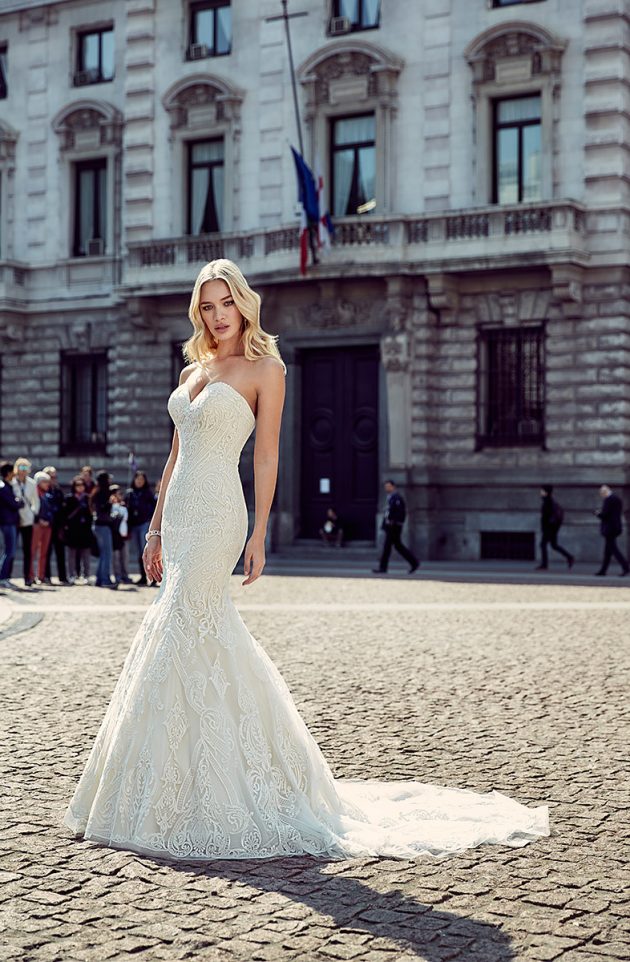 Because these dresses have lace all around then you can choose Floral Lace Bridal Shoes that are perfect match for these types of dresses.More wedding accessories are available now a days you can buy hair jeweled accessories which are also best to wear in summer days.
Eddy K Milano Bridal Collection will be available on his website you just need to look for the design that are shown below and buy them from designer's official web.