Bridal Sharara Party Wear Dress is the traditional dress for Indian and Pakistani brides to wear on special occasions lets check the designs for the summer season.
Sharara is the dress type that is worn by the South Asian brides on different occasions more specifically by the Pakistani brides.It was once the common trend then faded away now its coming back with new and modern designs that will make you glamorous any day.
Origin of this dress is from Lucknow India where Nawab's women family members used to wear this dress type on events and occasions.Sharara is also worn by young girls as their party wear dress to be more traditional and cultural in fashion.
These days designers use different materials and fabrics to design this dress form there are many varieties available for this dress.Its look like trouser but ankle length bottom is different from lehengas and trousers in many ways Sharara is also paired with different tops.
In India women will prefer choli while Pakistani women pair them with kurtas and duppata Indian women wear it on events and Pakistani women wear this dress type specially on wedding related events.When it comes to festive occasions traditional dressing is incomplete without Sharara.
It have further sub categories known as ghaghra and sharara lehenga which is the combination of two bridal category dress types.Wedding and festive occasions is the time when people follow their cultures and like to dressed up in traditional way.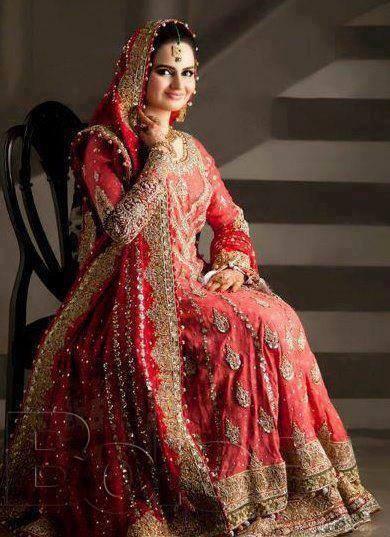 If this dress is designed for the brides then it will have heavy embroidered work while party wear dresses are not much with heavy jeweled work.Golden thread work is famous in the bridal category and you will see plenty of that in different designs of Bridal Sharara Party Wear Dress.
This is the winter dress but can be worn on summer events too if you buy the one's which are crafted inside light weight fabrics so check out all the designs from the following gallery.
See More:-Umsha Dure Shevar Bridal Party Wear