Ayesha Ahmed Bridal Formal Wear Dresses are in luxury elegant eastern designs that bride is looking to wear in the hot days of summer these are after marriage dresses.
If you are just married and still some events are left that you have to attend and look to become as elegant as your bridal day then we have the perfect combination of luxury and traditional embroidery art that is done with gold thread on some dresses.
This collection of dresses is by Ayesha Ahmed her all collections are based on formal wear for the brides with elegant styles and luxury materials that can be seen on all over the dress.There are many designs that will got your attention like open jacket lace net work shirt with tights or trousers.
Colors combinations are well used by designer all of them are matched with gemstones that can be seen on front area of the shirts.Some dresses are floor length frocks and some are 3 pcs traditional style but in luxury forms with sharp colors and heavy embroidery on some.
As a new bride you still want to wear some bridal type fancy clothing during the events and there are many dress types from Ayesha Ahmed that suits your need.As we already told you her collections are based on formal wear and bridal wear dresses as you can see from the pictures.
In the mid of the Year many festive occasions are coming and summer will be on its top so there should be balance between dresses and environmental conditions.As we all know Pakistani special occasion dresses are so heavy because of amount of work done on them that women only prefers them to wear in the winter days.
But from the start of spring some designers are using less layered clothing and applying minimum embroidery that will be well suited and best for summer days.We have selected some light weight fancy outfits from Ayesha Ahmed Bridal Formal Wear Dresses that are suitable for you and are according to the trend.
Ayesha Ahmed is one of the fashion designers that some of you may not seen or known because of her work related to specific category her collections are not seen like every month like top brands do.But she is very talented as you can see from the designs typical Pakistani party wear clothing with modern embroidery art.
Colorful materials and traditional dress types are the need of an event in Pakistan and you will find plenty of them with luxury materials on them.Prices of these dresses are usually higher then their same types because of elements used and applied that sometimes are handcrafted.
These dresses are sign of innovations and modern traditional art culture of Pakistan designer have designed fancy dresses keeping her self limited to the traditional art work.In every dress you will see glimpse of Pakistani art fashion that have been famous from many years.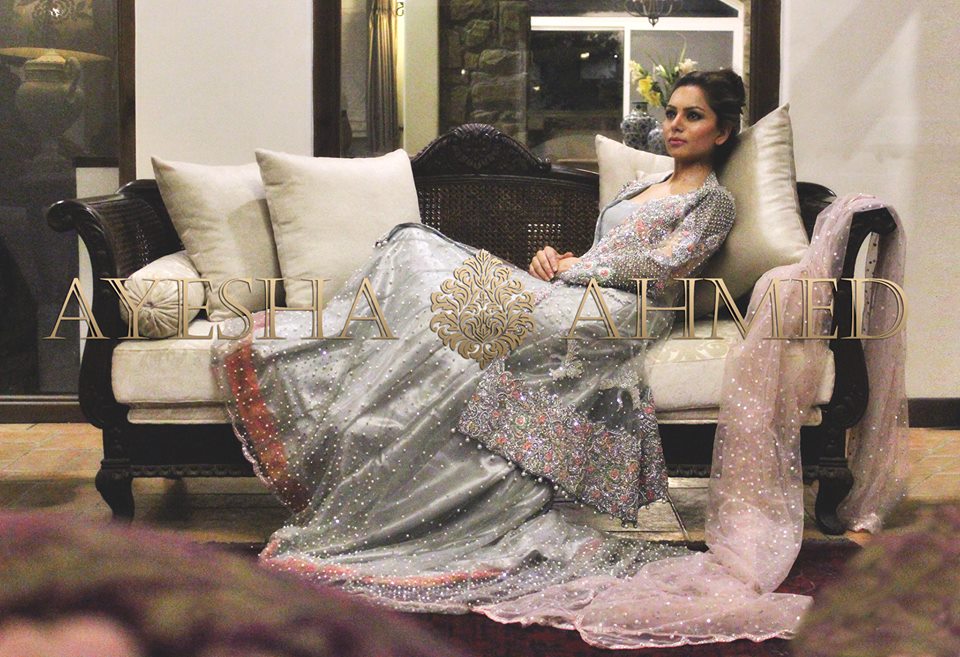 So lets check out the Ayesha Ahmed Bridal Formal Wear Dresses from the gallery and see what options are available for you during the hot summer.You can visit website or contact Ayesha Ahmed on her official Facebook page because her collections are not available in every city.
See More:-Luxury pret bridal formal wear