Sapphire Wedding Ring is one of the most chosen wedding rings these are chosen in daily routine also check out the designs that we have chosen for you.
We all love gemstones specially on wedding ceremony women love to wear special made gemstones and diamond rings.Brides are often confused about their wedding accessories they sometimes can't decide which one to buy and which one to choose.
So today we have got some sapphire wedding ring designs and guide for you which you can choose for any season wedding ceremony.
How To Buy Sapphire Wedding Ring
Color Matters
Real Sapphire rings are for premium prices and those prices are chosen based on gemstone color unlike the diamond ring Sapphire ring price is decided by the saturation level of blue.Blue is most chosen color in sapphire wedding ring it is often refereed as Cornflower Blue.
Blue sapphires are more valuable and have their charm that every bride want's to get in her finger the most natural saturated sapphire ring can be so expensive around thousands of dolor's because of its quality and beauty.
Intense blue sapphire are the new one in the market it is one of the finest form and in traditional design that everybody is loving whether its a wedding or you want to gift someone intense blue sapphire rings should be your choice because of their quality.
Most major colors available in sapphires are pink and purple, orange and yellow, green, and colorless and black every color range have its own price and market value.
Out of all of them fancy sapphires have padpardscha color and those are chosen if you have more glamorous wedding dress then usual.These are very valuable and charming their prices are much higher in carat value then its sibling colors.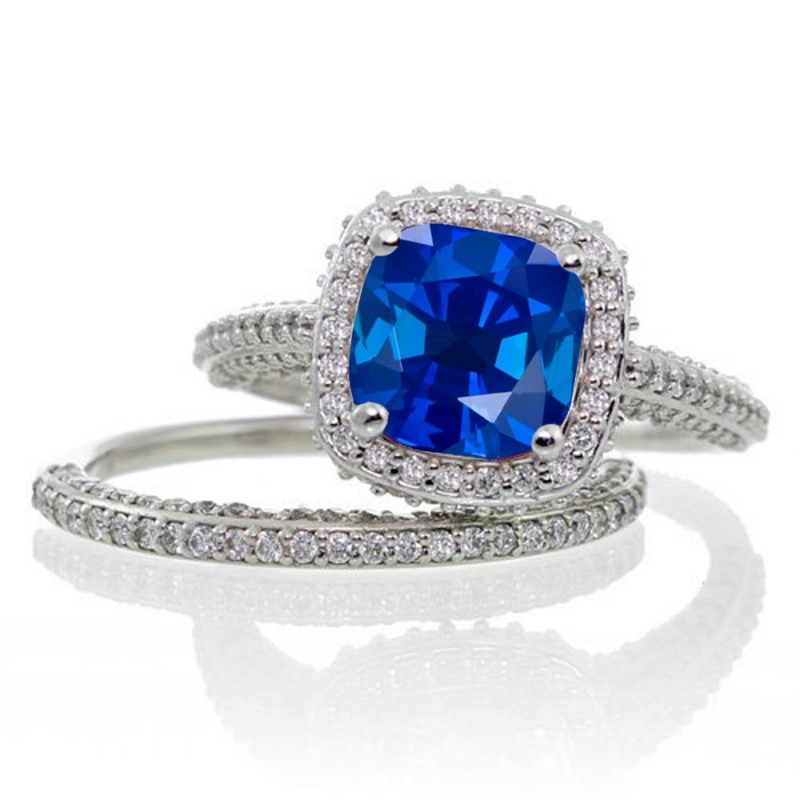 Gem Value
Unlike diamond sapphires are chosen according to the color and quality of gemstone and saturation of gem but one thing that matters more its the gem clarity that's why its value will become more precious.
Most sapphires have inclusions as a buyer you should not buy visible inclusions but gemstone will have the inclusions which is not seen from the naked eye.
Value of gem will vary region wise too there are some regions of the world which have higher value due to country currency but overall general market price is considered.
If its from some notable brand then you can guarantee its value and know what you are buying but if you are buying from a dealer or jewelers then always verify the quality and price and consult first from experts before buying below you will see some of its designs check them out.
Sapphire Wedding Ring Images
See More:-Beautiful Wedding Rings