Rang Rasiya Luxury Wedding Wear Formal Collection was launched recently and it has some sizzling exciting new designs which as a bride you will love to wear on events.
Winter is known as the wedding season in Pakistan so almost all brands launch formal dresses that are specially designed for the new brides and woman who likes to wear fancy dresses on special occasions.
Rang Rasiya does not have much history they are new to the market seen first they launched summer lawn and got success because of beautiful patterns and modern design work on traditional shalwar kameez dresses.
Now, Rang Rasiya has tried something different for the wedding season they have launched wedding formal luxury dresses which are in traditional and modern designs consisting of gowns and lehenga style dresses.
Rang Rasiya Luxury Wedding Wear

When it comes to wedding wear woman always go for luxury and fancy dresses whether as a bride or woman attending the event you wanted to look perfect and different and Rang Rasiya has presented exactly what you need to wear this season.
By launching different types of dresses brand has launched a versatile collection so a woman can buy according to their fashion taste.
Like some woman will prefer to wear traditional dresses like lehenga, grara, long length dresses etc and some will prefer to go with gowns which in Pakistani fashion is a long length maxi dress.
Elegant and vibrant colors can be seen on dresses these delicate colors will take out the diva hiding inside your personality.
This collection is available in the market as "Chatoyer" collection and consists of 10 different unstitched dresses that can be worn on wedding event nights and formal dining occasions.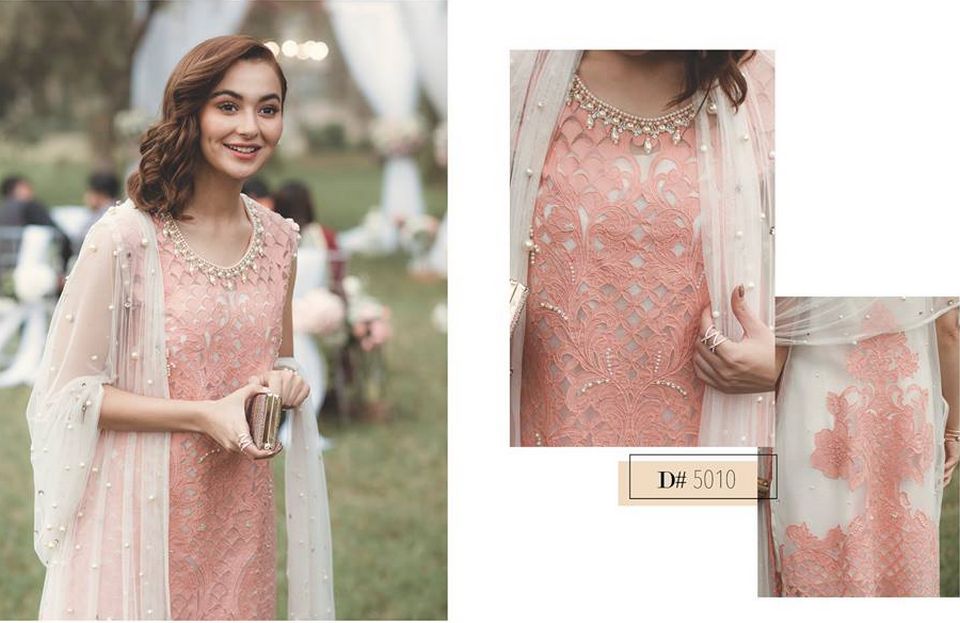 All dresses are worn by emerging actress of Pakistan Hania Amir and she has done a good job by wearing and showing Rang Rasiya Luxury Wedding Wear Formal Collection in style.
Delicate and unique embroidered techniques used on the dresses are the center of attraction that's why designs are so delicate and different from other collections available in the markets.
Designer team has used different fabrics a combination of winter fabrics comfy and warm so you can wear them easily in any event during the cold environment.
Available at a price tag of 14,000 rupees Rang Rasiya Luxury Wedding Wear Formal Collection is economical collection when you compare the designs of this luxury collection to other fancy collections.
See More:-Elan Luxury Bridal Formal Collection
Each dress has been designed with great artwork and will grab the attention of others because of the designs and unique artwork.Colors and embroidered work are melded together to form a classic glamorous collection that will be remembered for a long time.
You won't get these type of luxury dresses under $150 so what you are waiting for log on to Rang Rasiya official web and grab your favorite dress.You can also contact the brand on their social media pages available nationwide and selected areas around the globe.